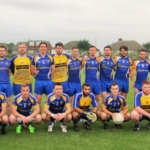 It was a great occasion for Parnells to be involved in the first club final at McGovern Park in Ruislip since the new ground was opened in May.  The team had some great games along the way to secure their place in the final and were looking forward to playing KKG in the Cara Stationary Conway Cup.
As the teams warmed up in the new training area, the crowds gathered in the new stand and it was fair to say that Parnells had support in great numbers.  A cross section of old familiar faces along with many of the clubs' youth players and their families, all decked out in their various club colours and attire sat and chatted, discussing the forth coming game.
The game was thrilling, full of highs and lows.  Parnells were the dominant team in the first half and led
1–08 to 0-05.  However, the second half saw a turnaround in fortunes and the lead was slowly chipped away and after 20 minutes KKG brought it back to a draw game and then took the lead by three points.  A massive effort by Parnells however, saw them respond with three points to take it to extra time.  After two quick goals by Connor Spinks, Parnells had one hand on the trophy.  KKG responded and going in to the last 10 minutes they chased down the lead and finally snatched victory by scoring a very late goal.  Final score 3 – 13 to 1 – 20.  Congratulations to KKG but Parnells performed brilliantly and will look back on the game as the 'one that got away'.  Fortunately, the team regrouped and won a very important League game against Neasden Gaels on Sunday, 0-12 to 0-10.  The team is looking forward to the rest of the season.
It was great to see some of young teams travel over to Goodmeyes to participate in Thomas McCurtain's Family Fun Day.  An enjoyable event and great football on the day for our U6 and U10 teams.
Training:  Seniors training back to Tues and Thursday in Northwick Park, 7.30 – 9.00pm.  Always happy to welcome new players to an established and sociable club.  Please contact Senior Secretary Dennis Diggins on 07768352680.  Lifts can be arranged.  The Youth are coming to the end of their training as the summer holidays approach.  Please see website for details.  If anyone is interested in attending future training sessions, please contact Youth Club Secretary, Colin Corrigan on 07917729411 or Fiona Corrigan for the girls on 07940 568702.
Congratulations to all those involved in the London Irish Vintage Club and its Charity Day.  Another fabulous event in Greenford; money raised for charity with cars, art and crafts, music and dancing.  Something for everyone and thoroughly enjoyable.