1.12.17 Minor Championship Final Report
U16 Manager Danny Twomey reflects on the Youth's section final game of the season and a glorious win.
4/11/17 Greenford
Parnells vs St Kiernans
Parnells 4-12 St Kiernans 0-8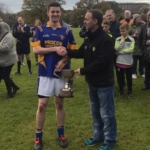 Anyone who has ever experienced the inside of a dressing room just prior to any football match will have witnessed a varying range of actions and emotions within those four walls. Some guys are quiet and maybe have a ritual that they religiously adhere to in order to prepare themselves for the task ahead. Other guys need the banter, the joking, the 'craic'. It's just a mechanism which helps in their preparations. Whatever works for any individual is good, it's all about being in the right frame of mind come throw in (in the zone).
On entering the Parnells dressing room Saturday's 'final' day about half an hour before throw in, I could not help but notice an almost library-like feel to the room. All the more surprising as nineteen young men were ensconced within, and I certainly couldn't see any of them having 'the craic' at this time. These guys knew there was a job to be done and they were focussed and ready to go. Most of these lads had tasted defeat to St Kiernans in the under 16 grades in the last couple of years and they were in search of redemption.
The old heads of this young bunch, Stephen Lally, Matthew McHugh and Captain Neil McNamara had been there before (and bought the T-shirt) but their quest was for another minor championship and more glory.
Despite heavy rain in the morning the pitch was soft but in decent condition and a fair sized albeit familiar crowd were in attendance.
Tony Griffin had expressed a need for a good start, (in his own inimitable way). The lads responded brilliantly, the first twenty minutes was so good that all of the various Parnell coaches in attendance were made redundant. There was no need that say anything, just watch and enjoy. INTENSITY, DESIRE, WORK RATE allied to the finer skills of football were evident all over the field. Matthew Mc Hugh was playing his last ever game in minor football and he was having the proverbial 'blinder'. Two goals in the first 10 minutes and looking dangerous at all times. Niall Bradshaw stationed at left corner forward was 'on fire'. Three points from the hugely talented Niall B, whilst Luke Horgan pierced the St Kiernans rearguard with his trademark surging runs and offloads with regularity. Joshua Obahor and Liam Bakery at midfield were huge factors in the overall victory and were the engine that powered the team. Great to see Stephan Lally at the right half forward, Lally kicked a fine point and gave a great half hour prior to injury.
After the first twenty minutes Parnells were leading by 2-06 to 0-1 and cruising. Fair dues to St Kiernans though, never ones to rollover they came back at us in the typical fashion. Indeed, it was time for the defence to 'earn its corn'. The six backs were superb, martialled by 'Captain Neil' and 'Harry Logan" the other four backs rose magnificently to the challenge. Eoin Reilly and Daniel Maguire were in great form and as tight as a couple of drums. Michael Walsh was exceptional, this is the type of guy you would love to have on your team. Micheal despite carrying an injury made a number of essential interceptions to frustrate St Kiernans. Jojo Thabo was deployed as a forward in that he followed Michael English upfield. Michael was utilised by St Kiernans in a sweeper role and Jojo relished the new challenge. It was around the 25th minute that St Kiernans pierced our defence on two occasions. Here they came across Ricardo Esteves in sublime form, Ricardo bossed his square on Saturday and gave a brilliant performance. His kick outs were also a vital platform for victory, the half time break arrived with a score line of 2-09 to 0-5.
Luke McHugh was introduced for the injured Stephan Lally and the second half commenced. The next fifteen minutes were a mix of some good football peppered with mistakes and unforced errors from both teams. St Kiernans indeed played a lot of football during this period but could not really transfer their good work to the scoreboard. Eamon Kane was now in the thick of the action as replacement for Liam Bakery who had succumbed to injury. Eamon as always gave his usual 100 percent and managed to impose himself on his direct opponent. On the three-quarter mark Joshua Obahor won a ball in midfield and palmed through to Niall Twomey. Niall slipped his marker and crashed the ball to the net past a helpless Brendan Prior, this was Parnell's first score of the second half and was followed within a minute by a single from Twomey. Lewis Dickinson was putting in trojan work on the left wing and has really had a fine season for Parnells. A notable attribute for the team was the willingness of all the forwards to track back and put in the hard yards. It was not uncommon to see Dickinson, Twomey, Horgan and company back in their own half back line when needed.
The modern game dictates that players don't necessarily play in the positions they are named in. Jojo Thabo at half back for example spent most of his time in the opposition half whilst Eoghan Riley managed to get forward from corner back and kick a point to add to an excellent defensive display. The last quarter saw the introduction of two excellent under 16 footballers, Ciaran Griffin and Conal White to the corner forward slots both ways fitted in seamlessly and indeed it was Conal who expertly slotted home a goal from the penalty spot after being hauled down whilst bearing down on goal. Soon after the final whistle sounded by referee John Doyle who had a fine game.
Parnells had completed the 4 in a row, this is a brilliant achievement for the club and all of the lads and management involved should be congratulated. On a personal note I have to say I was so impressed with the attitude and action of the older guys in the squad who really helped the younger brigade to settle in to a fold. To see lads of different ages mixing together so well had a definite positive effect on the younger lads confidence which then transferred to the field of play.
Best of luck in the future to Matthew, Stephen and Neil McNamara who now leave the youth ranks and go to the adult grade football. Also, hard luck to Kiernan Rice and Matthew Forkin who missed out due to injury. This has been a brilliant season for this group, a clean sweep of league, championship and the All Britain is a great achievement.
A huge well done to the management team of Tony Griffin, Dennis Diggins, Tommy Ryan and Mark White.
Ricardo Esteves
Eoghan Riley 0-1
Neil McNamara (Captain)
Daniel Maguire
Jojo Thabo
Harry Logan
Michael Walsh
Liam Bakery
Josh Obahor
Lewis Dickinson 0-1
Luke Horgan 0-3
Stephen Lally 0-1
Niall Twomey 1-2
Matthew McHugh 2-1
Niall Bradshaw 0-3
Subs
Ciaran Griffin
Conal White 1-0
Eamon Kane
Luke McHugh