2.5.2018 U11 Blitz Reports
The U11 is a new age group this year and is providing a stepping stone out from the Go Games zoned football areas to a more free flowing football on a larger playing field.
St Kiernans held the first blitz (21st April) but unfortunately only 3 teams including ourselves participated from Pool A which was disappointing.
In our first game we faced Tara's.  The boys adapted to the new format and played well, a game we could have won but were narrowly beaten by a point.  Alex Hipwell, Cian McGrath and Ronan Keran showed their passing skills and great spirit.
Our second and last game was convincingly won against St Kiernans.  James Keegan took his scores well and our new player Michael Angland scored 2 goals and settled into the team seamlessly.  Ronan Carolan, Michael Butler and Sean Buckley played some lovely football. A promising start and a great launching pad for the rest of the season.
The second blitz was held on the 28th April at Harrow Rugby Club on a cold and wet Saturday.  Disappointingly from a coaching point of view we had a poor turnout from our U11s and it meant that we couldn't field without borrowing players from the opposing teams.  This was unfair on those kids who did turn up and for myself and Harry who put a lot of effort in to planning the team ahead of the blitz.  I'd like to thank those who did come and appreciate the support from the all those who helped set up and make it an enjoyable day.   3 teams from Pool A attended-ourselves, St Kiernans and Taras and 2 from Pool B-Clarets and NLS.  This meant every team had 5 games and plenty of football.
Our first game against Clarets started well enough but they were too strong and beat us convincingly. Unfortunately Thomas Keane got injured in this game and had to withdraw-his presence was missed.
The next game fared better against Taras. At half time we were going well, Ryan Bailey went into goal for us which changed the game. Matthew Cox and James Keegan dominated and we won by 2 points.
For the third game we met NLS, and although we were up at half time we just lost out.  We had some great scores from Paddy Rattigan and our new dynamic trio Aidan Bergin, James Scollan and Michael Angland who never missed his chances.
Our final and best played game was against St Kiernans.  We won with brilliant play and sheer determination from all the team and especially by Ethan Shaughnessy, Thomas O'Brien and Tommie Logan.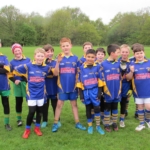 A big thanks to Harry Logan, a Parnells U18 and London player who has agreed to help run the team with me-a real calming influence who the boys look up to.  He has been there for both blitzes and his time and advice are really appreciated.  Looking forward to the remainder of the blitzes.
John Rattigan and Harry Logan.