U10 Gael Londáin Blitz 13.5.2018
U10 Blitz Report – Gael Londain 13.5.2018 by Tim Slattery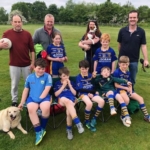 A small group of our under 10's made the trip to Sunbury-on-Thames to participate in the Gael Londáin Go Games Blitz which was held last weekend. 
The team, who were depleted with some late withdrawals, played 5 games in total and were simply fantastic. 
Special mention to Fiachra who made up the 7th member of the team and did really well in goals with some important saves and accurate kick outs. 
More special mentions to Katie, Shane and Evan who were making their debut at this age group. 
A final special mention to Ryan M, Ryan B and Tadhg who were the glue that bonded the team together.
It's incredible to think that this young team had the better of exchanges with all the teams they played perhaps with the exception of our first game where we were a bit slow out of the traps and scored one point less than our opponents. 
However by the time they faced two strong teams of Gael Londáin and St. Kiernans in their last two matches of the day they were firing on all cylinders. 
Team Analysis
Fiachra as mentioned did his bit in goal and was not fazed by the jump up in age groups! 
Katie got some lovely touches and laid the ball off extremely well. Her positive attitude was infectious and she is a fantastic team player. 
Shane won some great possessions, made some great clearances and took his scores well. He worked hard throughout and was always a danger when up front in particular. 
Evan was a revelation. He was enthusiastic, tigerish, determined and strong throughout. Demanding the ball he got a high number of possessions and his defending was brilliant. His long clearances helped us out on more than one occasion. 
Ryan B really started motoring in the last few games and he was not going to be beaten by Gael Londáin or St Kiernans. His strength on the ball and his ability to find a team mate with some exquisite passes meant that opposing defences were breached on a regular basis. Of course he also chipped in with some lovely scores.
Ryan M also rose to the occasion particularly when we faced the stronger teams. His trademark pass to himself caught the opposition out on a few occasions and his skill on the ball was sublime. He also tackled extremely well and made some wonderful clearances as well as scoring some lovely points. 
Tadhg who was asked to be captain for the day played a blinder. He was full of running and covered every blade of grass on the pitch. He tackled superbly and was our turnover king. He carried the ball extremely well and used his sidestep to good affect scoring a number of points both with the fist and off the foot. 
Our players represented the club and their families really well. They bonded well and their behaviour was exemplary. Their sportsmanship on the field should not be overlooked or taken for granted either. Well done all.