Parnells London Go Games Blitz U8's Report 20.5.2018
Parnell's Under 8 – Sunday 20th May from 'the coaches'
Hi everyone – here is a short update from the blitz at our new home at Harrow Rugby Club, a big thank-you for all your help and support in making it a memorable day for everyone involved – we hope your children had a great day.
The Under 8 children were divided into 2 teams for the day – Amber and Blue.
The teams
Parnells Amber – Coach Peter B
James M, Connor O'D, Ben Evans, Carrie Rattigan, Ciara Evans, Jack M, Lucy M, Frankie P, James B and Nicola
Parnells Blue – Coach Peter C
Finn, Olivia, Shea, Dermot, Jack C, Tom, Queenie, Daniel, Shea M and Leah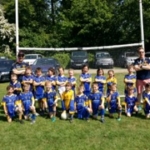 Parnells Blue match reports- team photo below – they look great!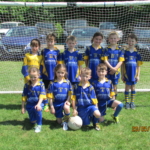 This was the first Blitz at U8 level for a number of our squad and they didn't let the occasion phase them.
First up was Tara Green who came out of the blocks fast with some great play. As the game went on our players began to gel well together and there were some fine interchanges, neat passing and nice scores. The players rotated through all zones and each one of them adapted superbly.
Leah and Shea showed great resolve in the tackle even against the biggest players on the pitch. Queenie and Shea M were always looking for their team mates with some wonderful hand passes. Jack and Tom worked hard back and forth to disrupt Tara's attacking play. Finn and Daniel took some great scores and showed composure under pressure. Olivia and James B showed vision from the back, finding their teammates with some long accurate passing. We traded scores with Taras in what was a solid start to the day.
After a little break in the scorching sun we faced TCG red in our second match. Whatever the players had during the break really did the trick because they burst into life in game two. Once again we played the ball superbly through the zones with the forwards taking their points at every opportunity.  The points came thick and fast with all of our players doing their part for the team.
Game three was against St Kiernans and our U8's picked up where they left off, with St Kiernans struggling to keep up with the pace and passing of our team. Finn and Daniel popped over a few great scores from every angle, Olivia and Queenie made the opposition dizzy with their passing and scoring. Leah and Jack blocked, harassed and tackled like their life depended on it. Tom and Shea covered every blade of grass on the pitch always looking for the best pass, whilst Dermot and Shea never gave an inch, I'm not sure the players in their zone even got to touch the ball, they were first to everything.
Our fourth and final game in the sun was against North London Shamrocks. Despite the heat and three pulsating matches we had already played all 10 of our team were full of energy.  Our confidence was up from the previous game and the tackles, blocks, passes and scores kept coming. It was great to see the team work, with every player always looking for a team mate, either to support in defence or for a pass in attack.
After four great games and too many scores to count our home Blitz came to an end.  Our U8's did us all proud and what's really exciting is that most of them still have at least another year at this level, I'm glad I'm not playing against them!
A special thanks to Kevin Barrett who referred all our matches on the day superbly.
Parnells Amber match reports
Our first game saw us play our friends from St Clarets – we had to loan them one of our players as they were short a player and I was delighted with the attitude shown by several members of our team to help volunteer without question, special thanks to Dermot for putting his hand up immediately – a great eagerness to help out is always welcome. I would also like to say thanks for the other members of our team  – the super subs – that allowed all players to get on to the pitch and be involved at some point during the day – it's certainly a team game.
Once the game began we showed great examples of energy despite St Clarets taking the lead, our youngsters showed great determination to get back in the game and after a couple of scores we played out a very close game.  Our midfield pair of Carrie and James M showed they have great potential with frequent scoring and passing. Ciara performed very well in goal and it's a position she handles naturally and with a smile on her face.
Our second game was against Taras – this time we had a player swap as Dermot headed over to play for Parnells Blue and James B came to run out for Parnells Amber. Ben Evans was our Goalkeeper on this occasion and he made some fine saves. All of the team showed great teamwork to chase down the opposition and win back possession which is really pleasing to see. James B put over some nice scores and Nicola and Connor showed very good defensive blocks to win back possession for the team.
I would like to mention the great attitude shown by Jack M here when he was on the end of an accidental push from one of the Tara players – rather than complain and get upset our Jack got on with the game and continued to make himself available to his team for passing and scoring.
Our third game was against Gael Londain – on this occasion we had to loan out one of our players and this time Ben went to play for the other team –  I have to say it turned out to be one of Ben's best games as he scored with his first touch of the ball and he made a real tough opponent, the Gael Londain Coach was very complimentary about the willingness of our children to help out other teams and get the game on – well done guys and thanks Ben.
This game saw Connor take place in goal and he made some great stops and nice kick outs showing some lovely composure. Lucy and Jack put together some quick passing moves which was pleasing to see and ended up scoring a few over the bar. This match was played in a fantastic spirit which we think is captured by this picture of both teams after the match with the Parnells and Gael Londain players huddle together.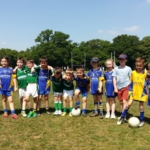 Our final game of the day saw us play TCG – this time Frankie started off in goal for us and he managed to keep out some great shots from the TCG – I think this was our toughest game and the children did us all proud as they showed great levels of effort in the afternoon sun –  not even the announcement half way through the game of 50p ice-creams managed to distract them! I think over the course of the day our children really got into their stride for this final game and all the team played their part in goal or in defence, midfield and attack.
In closing all of the children all showed a great attitude over the 4 games and played some lovely football on a great day for the team and the whole club – that's great to see and for us to build upon. After each game we provided our opposition with 3 cheers and a handshake that made for great fun.
Thank-you to all the Under 8 children for showing great teamwork and their families for making the event a real success – we look forward to seeing you at training.