A terrific time was had by Parnells Youth when they visited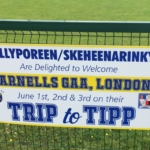 Bally / Skeheen GAA in Tipperary last weekend.  The club left Stanstead on Friday in the early hours, met Emanuel Petit en route, took in a Croke Park tour and landed in Tipperary Friday afternoon.  The rest of the weekend was a mixture of gaelic games, a parade, family fun and meeting and training with Tipperary county players.  Bally / Skeheen were fantastic hosts and made the club feel so welcome.  Particularly Mick 'Taz' Grffin's sister, Geraldine King (Club Secretary) who was instrumental in making the trip happen.  The website will have photos and a report in the near future.  
It's very unusual to have such a quiet week in the gaelic calendar but it is a short respite in preparation for football early June.  U13 and U15 age groups will be playing league games and the U11's continue with their blitz's.  After being knocked out of the cups, the Senior's will shortly start their league campaign and are training hard to meet the demands it brings.
We would also like to recognise our players who were selected to join the Girls U14 Feile squad:  Amy Brown, Alice O'Brien, Rihanna Roache and Millie Taylor.  Well done girls, you have made the club very proud.  Emer Walsh, Emer Fadian, Sorcha Moran, Ava Ruddy, Eva O'Rourke and Madi Cox nearly made it and they must be disappointed but keep up the hard training and your time will come.
The club would like to wish all the best to those club players in our youth section taking exams as the 'exam' period continues.