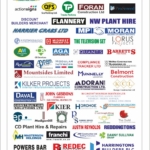 Parnells Men played Tir Chonnail Gaels in the second round of the Senior Championship.  TCG were assisted by a very strong wind in the first half however the scores between the posts were fairly even but TCG netted three goals which gave them the advantage at half time.  Unfortunately Parnells could not come back from that early lead and lost the game.  Parnells will be up for the challenge in the next Championship game against KKG this weekend.
Good luck to the U15's as they play Tara in the final of DIv 1. League this Saturday and we wish all the U10/8/6's an enjoyable last Go Games blitz at St Kiernan's James O'Brien Day.  A brief mention to all the girls teams who participated in the JFrench tournament and well done on reaching three finals.  Lastly the Club would like to thank all the clubs and our own parents and committee for making our U12 memorial tournament such a fantastic day with a feast of football and fun.  Well done to the Tara teams of boys and girls who had a clean sweep of all three trophies.
The club would like to pass on congratulations and jubilations to the Ladies team who had a momentous victory in Dublin and were crowned All Ireland Club 7's Champions beating Tuam Stars convincingly.  Well done to the players and mentors; the second title in the Club's history and the only team outside of Ireland to achieve it.
Events for the diary:  Parnells Youth Annual Golf Day is at Stanmore Golf Club 28th September 2018.  U17's are travelling to Killarney to play local teams in a festival of football (12th-14th Oct).  Parnells Youth Annual Presentation Date will be the 20th October 2018 at Harrow Rugby Club.  All information found on our website.