Parnells Youth Golf Day Winners (28.9.2018)
The Club would like to thank everyone who attended yet another successful golf day for the Youth Section of the Club.  There is no doubt that the hard work of many of our committee and members paid off; Martin Reilly, Ollie Sheehy, Taz Griffin, Micheal Healy, Colin McGuinness, Veronica Bailey and Irene Sheridan, to name a few!  Held at Stanmore Golf Club (a new venue) for the first time the bright sunshine and good weather brought out the best in all the golfers that attended.  The golf was followed by a great buffet and prize presentation.
The prizes were spread evenly and were as follows
Team Winner-Goldplatt
Front 9-Michael Healy
Back 9-Vinnie McGovern
Longest Drive-Niall Curran
Nearest the Pin-John Diviney
Individual Prizes- 1st Sean Sheehan, 2nd James Dale and 3rd John O'Dwyer
The evening ended with friends gathering for another buffet and to enjoy the company and craic and music provided by     Griffin.
Thank you to Stanmore Golf Club who provided a great venue, catering and golf course.  The event could not be as successful as it is without the wonderful and generous support of all our sponsors.  It would be impossible to list them all but the pop up banners on the photographs show how fortunate we are.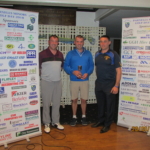 A selection of photo's in the gallery section for everyone to view.  Unfortunately not all golfers could stay for the presentation so thank you to those that stepped in.
Looking forward to next year's one already!!