The club held a brilliant New Year's Eve family disco and fireworks event for club members, friends and family.  The organisers were up at Harrow Rugby Club early in the day in preparation for the evening events.  Many thanks to those hardworking members and to everyone that attended.  Photos to be posted soon.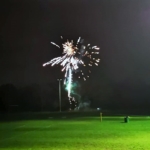 Winter training for the youth commences on Friday 18th Jan 2019 @ Preston Manor School (HA9 8NA).  For age 8 & under indoors & from age 9 up to U11 boys and up to U16 girls outdoors on 4G Astro Turf, 6.30pm-7.30pm.  First session free to all newcomers.  Existing member fee-£3.00 per session or £25 in advance for 10.  Contact Veronica Bailey (07768 635534) or Colin McGuinness (07779 340398).  Come along and have fun and learn new skills.  Training for older boys and Senior Men to be announced at a later date.
Just before Xmas the community saw the passing of two local members who had close connections with the club and the wider GAA community.  The club would like to extend their condolences to the Ryan family on the passing of Carmel Ryan, mother to Kenny Ryan (Senior Assist Secretary/Registrar) and his sister Margaret McGuinness (wife of Colin McGuinness, Youth Chairperson).  The club sends their condolences to you all and especially to the grandchildren, Jack Ryan, Jose and Erin McGuinness (players).  Parnells would also like to extend their sympathies to the Harrell family who saw the passing of Tommy Harrell after a long and brave battle against illness.  A true Gael in every sense of the word who gave years of support, dedication and service to the Gaelic Community in London, Provincial, Ireland and beyond.  His daughter Orla played with Parnells Ladies for many years and our thoughts are with her, her brother Martin and sister Sinead as they deal with the loss of their father.  Everyone will have fond memories of him and a story to tell.  He will be missed by all, may he rest in peace.
A more recent loss connected to the club was that of the sudden death of  Paschal O'Dwyer; Tromra East, Quilty, Co. Clare.East, Quilty, Co. Clare. Deeply regretted by His Wife Ann (nee Corry), His Son Paul, Daughters Carmelita, Maura, Eleanor and Anita.  Uncle to Irene (Club PRO) and brother to her mum, Margaret Sheridan. Our thoughts are with all family members.  Paschal was a former player, mentor and club official of the Kilmurry-Ibrickane GAA Club.  May his soul rest in peace.