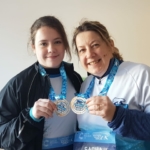 Winter training continues for the youth every Friday @ Preston Manor School (HA9 8NA).  For age 8 & under indoors & from age 9 up to U13 boys and up to U16 girls outdoors on 4G Astro Turf, 6.30pm-7.30pm.  Contact Veronica Bailey (07768 635534) or Colin McGuinness (07779 340398).  Training for the U15 upwards, the Junior and Senior team to begin on the Thursday 7th February for 10 weeks from 7-8pm at the same venue. Contact Tony Griffin (07966 160999) or Dennis Diggins (07768 352680).  New players welcome.
Congratulations to Ryan Forde who played for London in the first game of National League.  London were unlucky to lose by the narrowest of margins.
Well done to Sacha and Sine Moffatt for taking part in the 2019 Cancer Research UK London Winter 10K Run on the 3rd February 2019.  If anyone would like to donate, please visit their JustGiving page on www.justgiving.com
Please see 'Pitch Talk' for details of Tom Farrell's funeral taking place Friday 8th February.  The family and club have been overwhelmed with everyone's support.
The club would also like to pass on its condolences to Tony Griffin and Trish Madden on the passing of their aunt, Noreen Lavery (nee Moriarty) from Coolkeragh, Listowel, Co Kerry.  The eldest of 11 children, Noreen was mother to Patsy, Stephen, Ger and Kay, a grandmother and great grandmother.  Her husband Stephen Lavery from Ballyline, Ballylongford pre deceases her.  The funeral has taken place but our thoughts and prayers are with all the Lavery and Moriarty families.  May her soul rest in peace.
Events: St Patrick's Day Parade, London 17.3.2019, details for club participation to be announced.  Parnells Dinner Dance 30th March @ The Claddagh Ring in Hendon, Parnells Youth U13 Trip to Listowel will take place this May:  more details on both to follow.