The winter training sessions are going extremely well.  Every Friday @ Preston Manor School (HA9 8NA) for age 8 & under indoors & from age 9 up to U13 boys and up to U16 girls outdoors on 4G Astro Turf, 6.30pm-7.30pm.  Contact Veronica Bailey (07768 635534) or Colin McGuinness (07779 340398).  Training for the U15 upwards, the Junior and Senior team continues on a Thursday from 7-8pm at the same venue. Contact Tony Griffin (07966 160999) or Dennis Diggins (07768 352680).  New players welcome.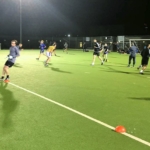 A brilliant result for the London team and a special mention for our own player Ryan Forde.  We hope their success continues in to their next game against Antrim at the weekend.
Well done to the U18 Parnells girls- Sine Moffatt, Elizabeth Peach, Emily Driscoll and Aisling Fallon who represented their county, London, in Birmingham last weekend playing in another round of the University League.  Without a full panel they still put on a fine display with great individual performances and look forward to the next round in Greenford on March 2nd.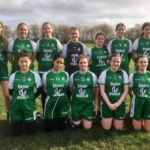 A belated congratulations to Tommy Donoghue on the receipt of his honour for his hard work and dedication to the ladies game as he stepped down from his role (after 5 years) as Chairperson of the Ladies Provincial Council of Britain and good luck to Brendan Lynch as he takes over the role.
Birthday congratulations to Ellen Reidy (from Calinafercy, Co Kerry but now living in Cricklewood) who will be 80 years 'young' very soon.  We hope Ellen, Maggie (her daughter) and all the family enjoy the celebrations!
The club would like to pass on its condolences to Irene and Sean O'Connor on the recent passing of their brother-in-law, Spence Eshmade.  He resided in Caherciveen, Co Kerry but lived in South Harrow, Middx for most of his life.  Survived by his wife, Marianne and sister Glynn.  The funeral has taken place but our thoughts and prayers are with all the Eshmade and O'Connor families.  Also condolences are extended to the Munnelly family on the news of the passing of Tony Munnelly on the 17th February.  Tony lived in Milton Keynes but was once a player with Parnells as was his brother Dick.  Mary Munnelly and all his relations are in our thoughts.  Funeral details are to be arranged.  May both their souls rest in peace.
Events: St Patrick's Day Parade, London 17.3.2019, details for club participation to be announced.  Parnells Dinner Dance 30th March @ The Claddagh Ring in Hendon, Parnells Youth U13 Trip to Listowel will take place this May:  more details on both to follow.