Parnells celebrating St Patrick's Day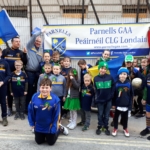 With St Patrick's Day taking place on a Sunday, the last day of the weekend, there is always lots going on in the community and further a field.  Families are out taking part in cultural activities and demonstrating their passion and love of 'all things Irish'; whether that be in sport, music, dancing, eating or having the 'odd' pint of Guinness, a red lemonade and a pack of Tayto's!
The club participated in the parade in London for the second year running.  Many of the committee and parents with their children met early in the day to take their positions in the parade.  Wearing their club colours, they proudly carried the club banner and waved the flags to all the parade followers.  Showing off their gaelic skills they walked through London taking in the fantastic atmosphere.  The weather was slightly more kinder than last year, extra layers were needed but it didn't put anyone off.  After the parade was over some headed back home, others stayed on, checking out what was happening around Trafalgar Square.
All in all it was a great day and the club would like to thank everyone who made the effort to attend.  For those that couldn't make it, there's always next year!
More pictures are in the Youth Gallery section.