The Senior Game v Garryowen did not take place along with the U17 game and both are to be re scheduled.  The Junior team narrowly lost by a point against St Anthony's in the McArdle Cup Semi-Final, 3 – 07 to 2 – 11.  St Anthony's over turned a Parnells half time 2 point lead and it was nip and tuck all the way in a very competitive game.  A great achievement to get to that point and the team will have lots to look forward to for the rest of the season.  We wish James Smith a speedy recovery, he damaged his shoulder in the first half.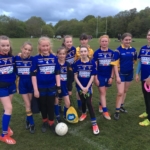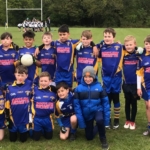 The Youth enjoyed a feast of football last weekend in some difficult blustery conditions with different age groups having their first outings on the football field.  Well done to the girls who put in great performances in their first league games last Friday evening.  The lads that played in the U14 Conrad Ryan tournament put in a fantastic effort and reached the final but were beaten.  The club hosted a successful U11 Go Games Blitz and saw a young skilful side win 3 out of 3 games.  Excellent performances by all players and well done to all involved on the field and behind the scenes.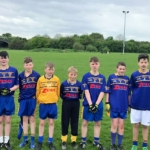 Wishing the London team success as they take on Galway on Sunday and also looking forward to seeing the London U17's play in the game beforehand; good luck to the team and the Parnells players involved.  Also the U15's will play TCG in their first League game of the season the 7th May.
Parnells welcomes new players across all age groups and ability.  For U6-17 please contact Colin McGuinness (07779 340398) or Veronica Bailey (07768 635534) and for the Senior/Junior teams, please contact Tony Griffin (07966 160999) or Dennis Diggins (07768 352680).  Please note memberships are now due for everyone.
Events:  Parnells Senior Golf Day 24th May at Mill Hill Gold Club, Parnells Youth U13 Trip to Listowel will take place this May 24th-26th, contact Ollie Sheehy for information (07951 701206).
The club would like to pass on its condolences to a former player, Joe Whelan on the recent passing of his wife Assumpta who hailed from Iniscarragh, Ennis Co Clare.  Deepest sympathies to Joe and his family.  Sadly, the gaelic community saw another figurehead suffer a loss of a close relative and the club would also like to give its sympathies to Lucia Butler (London Ladies Chairperson) on the bereavement of her mother, Anastasia Butler from Newcastle, Co Wexford.  May they rest in peace.