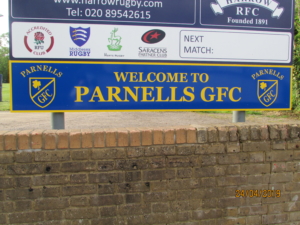 On Sunday, 19th May, Parnells Youth held their largest blitz of the season.  It was a fantastic day helped by the good weather and the participating teams' (all 36 of them) cooperation and willingness to help in the smooth running of the day.  The organisation of such an event is a massive undertaking with much going on behind the scenes prior to the Blitz itself.  Thank you to everyone involved in Parnells GFC:  parents, players and coaches who all played their part.  For days before up until the Friday, the coaches and committee were busy organising the fixtures and pitches, staying late into Friday evening and arriving early on Saturday to finish the job.
A special mention to those club's who's coaches refereed and to our own volunteers, especially our young whistlers Eoghan Reilly, Aidan and Declan Doran.  Also to 'our mums' who ensured everyone was fed and watered and had been out shopping to ensure we had enough food to 'feed an army'!  It was a delight to see everyone enjoying themselves and to be part of the GAA family.
The week could not have been busier with the U11's, U13's, O14 girls, Junior and Senior Mens team in action; all doing the club proud.  This weekend, the club (in the capable hands of chief organiser, Ollie Sheehy), are off to Finuge, Co Kerry for their annual U13 trip.  A fabulous itinerary will ensure lots of fun and football.  Safe journey to all.
Congratulations to Conor Griffin, Donncha Byrne, Rory Welby, Finn Foody, Declan Doran and Sean Duncan who were selected for the U14 North London Feile squad.  Best of luck to them as they prepare to go to Ireland.
The Club would like to wish all our players' good luck as the examination period continues for GCSE's and for the A Level students whose exams begin shortly.  Keep calm -your hard work will pay off and that applies to the parents as well!
The club would like to pass on its deepest sympathies to Mick Griffin and family on the recent passing of his uncle, Neilie Griffin, Pinewood Estate, Killarney, Co Kerry.  May he rest in peace.
Events:  Parnells Senior Golf Day 24th May at Mill Hill Gold Club, information on the Club website.  Parnells Youth U13 Trip to Finuge, Co Kerry takes place this May 24th-26th, contact Ollie Sheehy for information (07951 701206).
Parnells welcomes new players across all age groups and ability.  For U6-17 please contact Colin McGuinness (07779 340398) or Veronica Bailey (07768 635534) and for the Senior/Junior teams, please contact Tony Griffin (07966 160999) or Dennis Diggins (07768 352680).  Please note memberships are still outstanding for some.