A fantastic achievement for our Ladies team last Saturday who beat Round Towers 4 – 12 to 0-03 to win The Claddagh Ring Intermediate Championship.  Well done to everyone involved.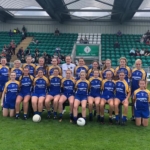 Another milestone in the Club was reached last week, the Junior team beat St. Anthony's 6 – 11 to 3 – 10 in the last of the league games and Parnells now play Eire Og again in the semi-final of Div. 3 League.  A win will see them through to a final against St. Clarets who have already secured promotion.  All to play for!
After the ABC weekend, training and games have now ceased for the summer for the Youth section.  The last session was more about ice creams than ball work!  Relaxed and fun.  Training will resume w/c 2/9.  The club would like to thank all the youth committee, coaches, players and parents for all their support and wish everyone a great summer.
Events to look forward to after the summer are the Youth Golf Day taking place on Friday 13th September at Stanmore Golf Club.  Details will be in circulation and on the website soon.  Also on Saturday 14th September we will be hosting our U12 Commemorative Games for the Ryan, Togher and Somers trophies.  This year we will be welcoming visiting teams including Sean McDermotts from Birmingham and Ballyporeen from Tipperary.  The club will celebrate with football and family fun and hope that it will be a great success.
The season continues and Parnells are always happy to welcome at our bases, Harrow Rugby Club and Northwick Park, new players across all age groups and ability.  For U6-17 please contact Colin McGuinness (07779 340398) or Veronica Bailey (07768 635534) and for the Senior/Junior teams, please contact Tony Griffin (07966 160999) or Dennis Diggins (07768 352680).
The club would like to pass on their sincere condolences to Sonny Farrell (brother of Tom Farrell (RIP) and sister-in-law Margaret Farrell) on the passing of his wife Kathy Farrell from West Meath.  May she Rest in Peace.