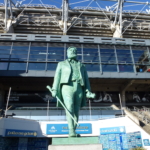 The Junior team were due to play Junior Championship game on the 29th August (re arranged date) against Naomh Padraig but received a walkover.  Training has been stepped up and attendance is high-showing the commitment for this competition. They now play St Clarets this Saturday at The Scrubs.  A win keeps the team firmly in contention to progress to the semi-final stage so good luck to the players and mentors.
The Senior team begin their journey in the Senior Championship with a game against Neasden Gaels, also at The Scrubs at 4.30pm.  Good luck to all involved.
The Girls will be in action at the J French Competition in Greenford.  Always a great event where many teams participate and lovely football on show.  Wishing the organisers and players a fabulous day.
All Ireland weekend did not fail to produce thrilling games and football.  Congratulations to Bobby O'Dwyer (Cork Minor Team Coach) who's team won the All Ireland Minor Final in extra time.  Bobby played with Parnells 'many' years ago and was part of the Senior London and Provincial Championship winning side).  It was fantastic to see Bobby jubilant in victory and celebrating with his management team, players and supporters alike.  See Facebook for a great photo.  The Kerry and Dublin Senior Final did not disappoint either and had many highs and lows for both sides up until the final whistle.  A draw and all to play for again on the 14th of September.
Congratulations to all our young players who received either their 'A' Level or GCSE exam results over the last couple of weeks.  Exciting times as they prepare for 6th form, college, university or work.
Events: 
Youth Club Meeting 5/9/19 7.30pm at Harrow Rugby Club.
Apart from a return to matches and blitzes in September, the club has three special dates to put in the diary and look forward to.
The Youth Golf Day is taking place on Friday 13th September at Stanmore Golf Club. Information is in circulation and more details are on the website.
Also on Saturday 14th September we will be hosting our U12 Commemorative Games for the Ryan, Togher and Somers trophies. This year we will be introducing a new trophy competition for an U13 girl's competition in honour and in memory of Brendan Lynch (RIP).  We will be welcoming visiting teams including Sean McDermotts from Birmingham and Ballyporeen from Tipperary.  The club will celebrate with football and family fun and hope that it will be a great success and look forward to everyone joining us.
The Youth Annual Presentation Day takes place on October 13th in Harrow Rugby Club from 3pm onwards. This is a great day of celebration of what the club has achieved on and off the field.  More details to follow.
With the school summer holidays now over, training for the youth section resumes on the 4/9/19 for certain age groups (managers will be in contact for each age group concerned).  We look forward to everyone returning and seeing out the remainder of the season.  Junior and Senior team training is currently taking place on a Tuesday and Thursday at 7.00pm.  The season continues and Parnells are always happy to welcome new players at our bases, Harrow Rugby Club and Northwick Park, across all age groups and ability.  For U6-17 please contact Colin McGuinness (07779 340398) or Veronica Bailey (07768 635534) and for the Senior/Junior teams, please contact Tony Griffin (07966 160999) or Dennis Diggins (07768 352680).