It's Fireworks Display time!
Remember, remember the 5th of November!
As Guy Fawkes Night approaches there are plenty of organised displays that you can attend.  At one of our bases, Harrow Rugby Club, there is a free display on Friday 8th November, 7pm.
Harrow Rugby Club Fireworks poster 2.11.2019
At Ruislip Rugby Club there is one on the 2nd November.  Gates open from 5.30pm, display from 7.30pm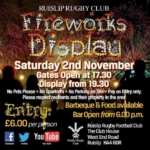 On Saturday the 9th November, a large Fireworks Display is happening at McGovern Park, Ruislip GAA Grounds HA4 6QX.  Gates open from 4.30pm, Fireworks Display 7.30pm.  Fairground and Live Music.  Tickets in advance £3/£5 from the club.  £5/£10 on at the gate on the evening.
Wherever you are, at home or out, be safe, follow the fireworks code and have an enjoyable time.