The club received devastating news when we were told of the death of Sonia McCarthy.  Sonia, aged 24, was the daughter of our former youth treasurer, John McCarthy and his wife Lucia.  The second eldest in the family with sisters Savanna, Sabrina and younger brother Adam.  Adam is a former player with the youth team.  The family live in Wembley.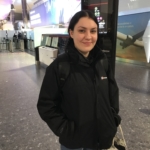 The circumstances of her death are tragic, killed by a driver, in Tanzania, late into the evening on the 19th January.  Sonia had just started a year of travel and adventure and was only 11 days in to her trip.  John and Lucia have been there and returned with Sonia who will be laid to rest until her funeral takes place (details below).
The club cannot begin to comprehend the grief the family must be going through and many of us have been in contact with them and visited them.  They are trying to come to terms with what has happened and are comforted by those who knew and love Sonia and have reached out to them.  John let the club have the photo that is with this piece and it is the last picture that he took of Sonia leaving as she began her adventure at Heathrow airport.
John has told us how intelligent and caring she was with a zest for life and a love of others that took her to different parts of the world and also involved her in so much charity work,  help for the homeless and those most in need whatever the cause.  Indeed she raised  £4,800 for The Kevin Bell Repatriation Trust where the Bell family suffered a personal tragedy with the loss of Kevin (age 26) who was killed in a suspected hit-and-run in New York in June 2013.
In a message to us John said 'we are proud to call her our daughter.  She was taken from us far to early but has achieved a lot in her short life.  She will always be an inspiration to us and anyone who had the pleasure of meeting Sonia.  We are so brokenhearted'.
The funeral has now taken place where her family and friends gathered to pay their respects and remember her.  The club would like to extend our sympathies to them and the wider family in Cork and Portugal.  They will all be in our thoughts, hearts and prayers and they come to terms with what has happened.  She will remain a shining light in their lives who lived, laughed and loved.  May she rest in peace.