Under 8's hit heights at North London – Saturday 14th May 2016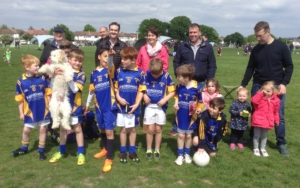 The under 8's travelled to Tottenhall on Saturday for the Go Games blitz which was hosted by North London Shamrocks. It was a relief to leave the North Circular traffic behind and let the kids loose in the spacious NLS grounds.
We had one team on the day and played four games. Our first outing was against a spirited young Tara side. Our lads quickly got into their stride and produced some excellent combination play to take some lovely scores. Tadhg tested his newly mended arm with a superb block down early on and this set the benchmark for his stellar performance throughout the day. Up front Joe was getting on plenty of ball and was linking up superbly with Tommie who scored a hat full of fantastic scores.
Next up was the hosts North London Shamrocks and this was the boys most competitive game of the day. They were not found wanting. The hosts were big and strong with some excellent footballers but we matched them. Playing with determination and lots of skill I think it's fair to say that we shaded the exchanges.
Lorcan was putting his left leg to good use and was our chief score getter making the umpire earn his corn on several occasions. Joey was darting into space, fetching hard won ball and turning well to kick for scores.  Joe was always looking to link up with his team mates. Tommie and Tadhg defended solidly and Jake and Riain added their strong kicking and running to the mix.
Also catching the eye were Evan and Aaron. Evan was tigerish in his marking duties and was not gong to give the ball away easily. Aaron was playing a blinder which belied his lack of game experience. He was hungry for the ball, made good use of the hop and solo and was not afraid to shoot.
All the boys played very well and this performance level continued for our remaining two games against St. Columcille's and Tir Chonaill Gaels. It was very pleasing to see the more experienced team members putting their foot under the ball for the pick up. They also demonstrated great intelligence by choosing to punch the ball over the bar when surrounded. It was equally pleasing to witness the enthusiasm and confidence of our newer under 8's who were brilliant. A mention also to Fiachra the youngest (by far) of our contingent who stepped in for us, no questions asked, when some of our squad were still in the snack shop! 
Above all, the boys played together very well, showing great camaraderie and respect for each other and opposing players.
Well done to all and thanks to North London Shamrocks for hosting this event for our kids.