Under 8's at NLS Go Games 8th October 2016
Tottenhall, North London was the venue for what is likely to be the last GAA Go Games blitz of the year.  The weather was pretty good and the pitches were nicely laid out by our hosts, North London Shamrocks GAA.
On the day Parnells were represented by an under 8″s team which included two debutants in their ranks. Taigh O'Sullivan and Darragh Molloy playing at their first ever blitz were joined by six of our more experienced young players to form a team that participated in a total of four games.
All games were contested keenly and it was great to see both Taigh and Darragh getting stuck in. Encouraged and supported by their more experienced team mates they grew into the games and became more confident with every passing minute. Well done to them on what I am sure will be the beginning of many outings to come.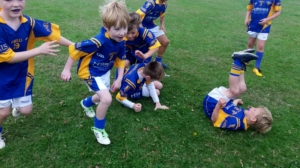 Our first game against NLS 1 was an exciting affair and the play went from one end of the field to the other with some great passing and score taking by both sides. Honours ended up pretty much even and a similiar outcome was achieved in our remaining games against St. Kiernan's, NLS 2 and  Round Towers. The game against St. Kiernan's was probably our most keenly contested and best performing game of the day.
Aaron Murphy showed well for the ball and has now added scoring to his armoury with the ball sent sailing over the bar on a number of occasions.
Eoin Murray had an incredible spell of defending where he won ball that was not meant for him and cleared his lines superbly.
Both of these players will undoubtedly be leading players for the under 8's next year.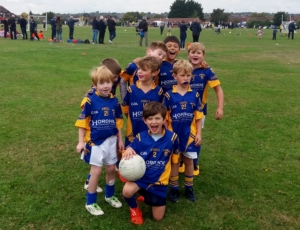 Jake had a great battle with the strong NLS guys and his persistance and hard work paid off with some hard fought possession and good ball distribution culminating in scores for the team. Jake showed what a great team player he is by providing great support and encouragement to our younger players.
Lorcan was our scorer in chief and his hand passed points whilst bearing down on goal at speed are becoming his hallmark as well of course as his strong and skilful play in both attack and defence.
Riain with his natural athleticism, played his usual strong game and his speed, tackling and strong kicking were to the fore. He fought hard and fair for every ball and provided guidance to our younger players when required.
Tadhg was his usual busy self and covered a lot of ground, defended very well and made some lovely passes. Well done also to him for using both feet when kicking the ball.
A final word for our supporters on the day  the two Kerry Dans, Sean, Toireasa & Clark, Andrew, Mark & young Cliona, Tara & young Fiachra, and indeed to all our families & supporters throughout the year, you are the glue that binds the club together, thanks for your support.