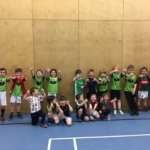 Another successful winter training season at the Cedars centre concluded last Friday.  Our main picture shows the U6s and U8s at the end of the training session on Friday.  
Before the club got started on outdoor training for the Under 6s, 8s and 10s on Wednesday evening, a few of the lads thought it would be a good idea to check stock levels from last year.  A bright sunny Saturday lunchtime and a few hours later we had the majority of the goals built.  Maybe we should order some instruction manuals for the goals along with the spares!!  
Colin, Peter and Tim-hard at work!
U17 Youth-Well done once again to the team on becoming the inaugural winners of the U17 Development League Final by beating St Kiernans in a fantastic and exciting game.  Please see separate post earlier in the week for a brief summary.  Well done lads.
Senior Men News
Outdoor training now begins at Northwick Park playing fields on Tuesdays from 7.30 – 9.00pm.  Fantastic turnout so far and all looking forward to a positive start to the season.  Some memberships still outstanding, please see Jimmy Wilson.  Players, mentors and managers are looking forward to the club trip to Maynooth, Co Kildare on the 8th and 9th April, staying at The Glen Royal Hotel.  All new players welcome to training, please contact Dennis Diggins (07768 352680).
Congratulations to Gerry Canavan who played on the team last year on his call up to the U21 Mayo side.  Forthcoming Events:  Golf Day on the 5/5/2017 at Mill Hill Golf Club, 2pm.  All details and forms on the Club Website.
Youth News
Outdoor training now begins for all at Northwick Park playing fields.  The u6/8/10 starting with sessions on a Wednesday over Easter-12th and 19th onwards from 6.30-7.30/7.45pm. U12's-Thursday's 6.30-7.45pm, U14's-Tuesday 6.15-7.30pm, U16's-Tuesday 6.30 – 7.45pm.  Minors linking up with the Seniors for their training sessions.
'Race for Sam & Liam'- Entries by envelope (available from committee members), £10 ea. with a cash prize of £500.  Club trip to Oughterard, Co Galway taking place from the 30/4 – 1/5 2017.
We extend our sincere condolences to the family of Andy and Natalie Hanley from Ballahadreen (Mayo/Roscommon border), friends of the club whose son, Tommy (age 16) passed away.  Their father played gaelic with Tony Griffin and Danny Twomey.  May he rest in peace.
Next Youth meeting is on the 25th April 8.00pm at The Green Man in Kingsbury.