9.9.2017 U12 Girls end of season winning success-report by Fiona Corrigan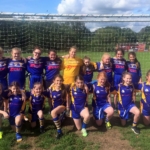 Parnells Youth attended the recent J Ffrench Girls Tournament with 2 U12 teams. Parnells Blue, consisting of our older girls, were in Group A and were matched against Beann Éadair (Howth. Co. Dublin), North London Shamrocks and St. Keirnans. Parnells Yellow, our Development team made up of mostly 8, 9 and 10 year olds, were in Group B with Tara, TCG and Beann Éadair (development team).
Parnells Yellow had a tough group with both Tara and TCG consisting of mostly older and stronger squads. However the girls battled gamely and played each match with commitment and intent, never taking a backward step or shirking a challenge irrespective of the opponent or situation. Unfortunately in both games they would run out valiant losers. In between both of the above group games, they would play Beann Éadair in what for many was the game of the day. For 15 minutes both teams went toe to toe with play continually switching from end to end, so it was fitting that the game would end all square. Parnells Yellow would go on to meet a very good St. Keirnans team in the Shield semi-final and although they battled until the finish, St. Keirnans would run out worthy winners and go on to lift the Shield in the final. Our thanks to each of the girls who played their hearts out on the day.
Daisy Curd was excellent in goal, showing great courage and confidence and often instead of using her hands would make saves with her face and other parts of her body! Our defenders, Maia O'Sullivan and Madi Cox put their bodies on the line time and time again and stopped and broke down many attacks by being in the right place at the right time. Our midfield trio of Erin Brogan-Smith, Connie Ruddy and Orla Lavery were asked to be our runners and must have covered every blade of grass on both pitches, and took on the responsibility of leading the team and setting the example in every game. Our 2 pocket rockets up front in Ruby Healy and Lara O'Sullivan were a constant thorn in the sides of opposition defenders and supported their teammates throughout by tracking back and always being busy. Definitely no opponent too big for these two. Congratulations and well done girls and the future is certainly bright.
Parnells Blue would get their group underway by playing Beann Éadair in the first game. Things definitely did not go plan, and the girls despite trying hard could not get going and were deservedly beaten. They knew that they had to put things right and quickly, and they did so with victories against both North London Shamrocks and St. Keirnans in their next 2 games. This meant that they would meet TCG in the cup semi-final. This was a very competitive match against more evenly matched opposition and Parnells had to be on top form to get the across the line. As has become custom, the girls gained momentum and got stronger as the tournament progressed and were definitely looking forward to meeting their earlier victors and having the opportunity to atone for that result.  In the final, the girls were relentless and had the bit between their teeth from the outset, pressurising their opponents throughout, giving them neither time nor space on the ball. Clinical in front of goal they would run out worthy winners against strong opposition and retain the J Ffrench Cup for the 3rd year running. Our thanks to the girls who gave their all for the cause on the day.
Lily Watts was strong in goal, with great positional sense and excellent distribution from kick outs. We mustn't forget her penalty save in the semi-final, tipping the attempt over the bar. Captain Brea Corrigan played everywhere and in all positions, and weighed in with some excellent and timely scores and was a calming influence throughout. Ciara Gowan grew in confidence throughout the day and her anticipation and tackles were vital. Sorcha Moran and Ava Ruddy selflessly played wherever asked, be it in defence or attack, and contributed enormously with their determination to win the ball and work hard for the team. The youngsters of the team, Emer Fadian and Eva O'Rourke, were hugely instrumental in us winning the competition, with their energy and work rate and ability to anticipate where the ball would be, give a pass and take a score. Amy Brown covered every inch of the pitch and going forward or tracking back she was a nuisance to the opposition and took some great scores. Ciara Moore handled superbly, was strong breaking out and caused problems with her accurate kicking. All in all these girls deserve a huge amount of credit for how they play the game, always with a smile and in the correct spirit. The target for all of these now must be to try and make the breakthrough to represent London at next years (and beyond) U14 Feile competition.  Fantastic effort and well done all.
In total, Parnells had 17 girls turn out on the day, 8 of those are in their very first season playing Gaelic football. The willingness to learn and develop is clear with all of these girls who really are a pleasure to be around and to coach. They listen intently and follow instruction and advice without question, and mostly importantly enjoy the game and the heat of the battle.
Our sincere thanks to our hosts Tara GFC for a very well organised and well run event. Our thanks also to TCG for providing their facilities for the tournament. It was great to see St. Keirnans and North London Shamrocks further representing London with participating teams and some great players are definitely in the making. Having competition from Ireland present was a great experience as it is always good to see how you measure up against these teams who get to play the game on a more regular basis. Many congratulations to Lucia for all of her efforts and for getting clubs from Ireland to take part. Our thanks to Beann Éadair at U12 and also to Shannon Gaels from Co. Cavan in the older age categories. Last but not least the superb support from our parents who assisted and cheered the girls on all day, thank you all.
Finally, it was great to see the respect shown between the players and we commend all clubs and their players for this. Having more days like this tournament will be for the betterment of girls playing football in London and our club encourage and support those who wish to develop girl's football further.