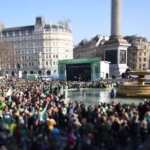 The club are very excited as final preparations are being made for our first ever participation as a walking group in the Parade in London.  Large numbers are joining the Committee and coaches and will walk together in their club colours displaying a new banner and waving flags.  This parade has grown over the years and along with entertainment and stands at various venues in central London, it is a brilliant opportunity to experience Irish culture at it's finest and have a day out to remember.
Please see information below issued earlier in the week by Tim Slattery.  Wishing everyone an enjoyable day and if possible, please take as many photos as possible, happy to receive via the website and create a gallery to capture the day.
I have been informed by the organisers that we will need to be at Hyde Park Corner, the parade starting point, between 10.30am and 11.00am in readiness for a 12pm parade start. See below for some key information. More details will be provided by the organisers this weekend and I will pass these onto you as soon as I get them. I will also send details of any arrangements that our own club may make for this event. 
PARADE ROUTE:
Piccadilly – Piccadilly Circus – Lower Regent Street – Waterloo Place – Pall Mall – Cockspur St – Whitehall
FORM UP AREA:
Piccadilly Eastbound from Hyde Park Corner to Half Moon Street (nearest tube Green Park/Hyde Park Corner)
Parade Timings
Walking groups arrival:  
10:30 – 11:15
Parade Order Call:           
11:30
Move off:  12.00 prompt
Dispersal:13:00 to 14.30 (depending on parade section)-Parnells are in section A.