The supporters in Ruislip were treated to a thoroughly entertaining game when Parnells Reserve side faced Round Towers in the AIB Reserve League Final on the 11th August in McGovern Park, Ruislip.  Having beaten North London Shamrocks in the semi-final earlier in the week, the team were ready to take on the Round Towers to try and win this cup with their last appearance in this final 8 years ago (2010).
Parnells took the lead with an opening goal from Francis Curran but then Round Towers loaded 8 points on the score board without reply.  Goals were the name of the game for this final and Francis Curran put another in the back of the net to narrow the gap but still trailed 2-01 to 0-10 at half time.
Scores from both sides at the start of the second half, including the 'stylish' (Irish World) Josh Obahor and a save from Tomas Hester kept the game in the balance until Kieran Rice scored a 'stinging strike' (Irish World) in to the back of the net.  Round Towers upped their game and responded with points and a goal, leading by 5 points with 9 minutes to go (1-15 to 3-4).
A nail biting end of the game ensued when the 'bear in the square', Jamie Murphy, bagged two goals within 4 minutes.  Parnells managed to hold on and secured the win; the team were elated and applause rang out round the ground when captain Fintan McKeon received the cup from County Board Chairperson, John Lacey.  Final score 5 – 05 to 1 – 16.  The goals were vital but the points scored equally important; great contribution by Leigh Cunningham not mentioned above.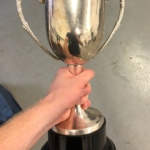 Well done to the management and all the players on the team.  At the end of the day-it's a win for the club and just reward for all those involved on the field and behind the scenes.  It's taken a while for a Cup to come our way but let's hope it's a sign of things to come.  Wishing Frazer Beccles a speedy recovery who was injured in goal half way through the first half.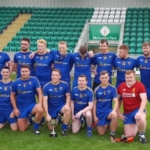 Team:  Frazer Beccles, Harry Logan, Jack Woulfe, Denis Twomey, Neil McNamara, Enda Fallon, Leigh Cunningham (0-02), Calum Diggins, Josh Obahor (0-2), Kieran Rice (1 – 00), Fintan McKeon (Capt), Richie Dempsey, Kieran O'Connor, Jamie Murphy (2 – 00), Francis Curran (2 – 01).  Subs:  Tomas Hester for Frazer Beccles (inj), Luke Horgan for Calum Diggins, Brian Quinn for Kieran O'Connor and Jack Diggins for Harry Logan.