12.5.2019
The U13 League started on the 12th of May and Parnells played in Pool A for the first two blitzes.  The first round of games is reflected on by coach, Ollie Sheehy.
A very good workout today from our U-13 team in Northwick Park. It was the first league games of the season with the perfect weather for playing. NLS was the opposition for our opening game, in what was an evenly contested match for the entire first half. Some very good individual scores, but as the game progressed, we played more and more as a team, all to our benefit and some fantastic scores.  Parnells went on to win the game with a score line of 5-6 to 3-2.
Our second game was against a more formidable opponent in Tara's 1st team. What a game this turned out to be, with Parnells playing some outstanding football. The boys were making the runs off the ball and getting into space to create some great scores. This put Parnells ahead by a goal at half time.  The second half, Tara's came out all guns blazing and we conceded 2 early goals which gave the momentum to them. However a gallant Parnells team switched back on and the teams were back level with 2 minutes to play. Tara's went on to narrowly win it in the end on a score line of 5-5 to 4-2.
A huge thank you to our younger members from the U-11 panel who turned out to help us on the day. Great to see the new talent coming up through the ranks. Very well done to all the lads involved today.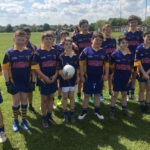 19.5.2019
A tough day on the field for the U-13's. We played Tara 1 in the opening fixture. This was a tight game for long periods, with both sides playing some great football.  Considering Parnells only had 14 players, we battled very well, with some great movement and converted some fine scores. The game was in the balance with 4 mins to go, however Parnells conceded 2 late goals through rushed kick outs to leave it 3 – 06 to 1 – 04 in the end.
The 2nd game was against TCG. This game was somewhat disappointing with Parnells work rate and positional sense far from what we are used to. Our boys never got going and with refereeing decisions going against us and some heavy tackles by TCG, we were beaten by 3 – 9  to 1 – 01.
Finally our last game was a huge improvement against Gael London. Following a little pep talk with our boys, they once again started to play as a team and with some fantastic movement and passing, they took some great scores. Gael London were big and physical, but not a match for our fine flowing movement. We went on to win with a final score of 4 – 11 to 1 – 04.
Well done to all the boys and we looked forward to the next stages of the League.