A round up of a feast of gaelic football
U11 Blitz St. Kiernans May 18th 2019 – Tim Slattery

U11 Team:  Lorcan, Ryan, Tiernan, Thomas, Dylan, Ronan, Ricky, Daniel, Matthew, Evan, Malachy and James
The U11s put in somewhat patchy performances in their two games held at Hendon on Saturday 18th May last.
They did not hit the heights of their previous outings at Wood Lane just a few weeks ago when they won all their three games. The challenge for all now is to get back to that level of performance and the high standards which we know they are capable of.
Parnells v St Kiernans
Our first game was against the host club St. Kiernans. With Matthew stuck in traffic and our numbers low, Daniel went in goal and Malachy (who won a great free for us) one of our younger U10s, was drafted in to the forward line to make up our starting eleven.
Playing up the hill and against the wind in the first half we defended reasonably well particularly Thomas and Evan in the full back line and James at midfield who scored a cracking point. However we were finding it really hard to retain possession up front and at half time trailed by a number of scores.
In a trait that was to be repeated again in our final game, we performed better in the second half. We worked harder covering back and managed to register some scores. However the damage was already done and despite the best efforts of Thomas in particular who was outstanding, St. Kiernans won comfortably enough in the end.
Parnells v Tara
Our second game against Taras was similar to the first. We were struggling to make an impact up front and our defence was battling hard under a lot of pressure. However Taras did not punish us and hit more wides than scores during this time of ascendancy.
We continued to battle away though and Matthew now in familiar territory between the sticks produced some fantastic kick outs frequently finding his man despite close marking by Taras.
We were still finding it difficult going up front though and seemed to be rushing our shots.
With the hill and a slight breeze to our backs we began the second half with more energy. A few positional switches seemed to click us into a higher gear.
Dylan moved to midfield and was dominating possession and supplying our forwards with much needed ball. Daniel too was moving with more intent around the middle and was growing in confidence.
Ricky went into goals and Matthew went to full back. Both players did very well in their new positions with Ricky making a number of fine saves and using his strong kick out to good effect. Matthew stuck to his man like glue and was working very well with the peerless duo of Evan and Thomas in defence.
James was now also operating in the back line where he seemed very much at home and was defending very strongly.
Ronan and Tiernan were working much harder up front and the team were rewarded for their efforts with some fine points by Ronan. With more ball coming in to the full forward line from midfield Ryan was winning possession and registered some fine scores under immense pressure from opposing defenders.
Lorcan who was alternating with Daniel between midfield and half forward was finishing strongly in both defence and attack and was working hard to get on the scoresheet.
It was pleasing to finish the game so strongly not least because the players know that with a bit more application and harder work their undoubted ability will shine through. Once they applied themselves and followed the game plan they did much better!
A big thank you to Evan from under 10s who played up an age group to help us out and played really solidly throughout.
And a big thanks also to Malachy who having being plucked from the stand to make his debut worked really hard for us in the full forward line.
U13 June Div. 2 League Group Games
The U13's completed the last round of fixtures competently with some great team performances.  Ollie and the coaching team played on the 9th and 16th of June and won the majority of games.  This means Parnells have qualified for a final to take place on the 23rd of June.  Opponents and venue to be confirmed.  Well done to everyone.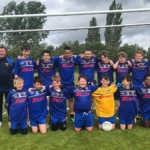 Girls U12 @ Gael Londain 16.6.2019 – Michael Healy
Today we could see that all the hard work is paying off.  Everybody played so well today in all positions of the field. Well done to the girls that played with the other teams to make up the numbers. In my opinion we were the best team there.  Out of the three games – we won two and lost one by a point.
Parnells 2.4
TCG 2.0
Parnells 4.1
Gael London 3.5
Parnells 3.8
Tara 0.2
Unfortunately the rules of the tournament were not explained in full and that it was the total of all scores that counted. We were so far ahead against Taras that I told girls to kick for points, if I had understood more fully, my instructions would have been different.  However that doesn't take away from the performance.  Well done again girls ye will be the team to beat shortly.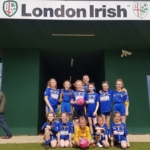 Girls O14 @ Gael Londain 16.6.2019 –  Liam Moffatt
It was a long day for our older girls at Gael Londain, arriving at midday but playing until 2.45pm although that did give us a chance to support our U12 girls who played very well themselves.  Unfortunately not our day, losing to TCG in the U16 section and Taras in the U19 section.  Not that it dampened the team's spirits!  Well done to all the players and families that travelled.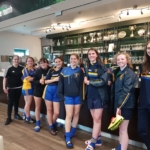 U10 @ NLS Go Games Blitz 15.6.2019 – Colin McGuinness
Well done to all the U10s today who played at NLS.  With only the bare 7 and no subs we played 4 games. First up was against NLS, the team got off to a slow start and just lost out by 2 points, a very narrow margin. Next we played St Kiernans, St Joseph's and finally St Clarets winning all games comfortably and with some great passing play by all the team. Some positive feedback from other clubs on how well the team played together.
A special mention and well done to the 'two lionesses' –  Olivia and Queenie who played tremendous today and both scored some lovely points. Well done again to all involved and hopefully we can repeat these great performances at the next Blitz.
U17 League v St Kiernans 16.6.2019 – Danny Twomey
Parnells U17 beat St Kiernans 3-12 to 2-6. This was in the first round of the league; considering the lack of football so far this year due to exams etc. the quality of play on show was surprisingly good in standard. In fact our lads were on the whole very cohesive with all the skills of the game on show. It is right to say that everyone involved played well against a very determined opponent. A match report will follow.