The U13 team have performed extremely well this season playing in all four of the round robin stages.  Their good results enabled them to play in the final.  Their opponents on the day were TCG.  This age group plays 15 mins a side and as a spectator it was amazing how quickly each half flew by.  Parnells were chomping at the bit from the throw in and with the frenetic pace you could tell they were keen to get on the score sheet.  A couple of point scoring opportunities went wide early on but the ball soon found its' way in to the back of the net fired in by Cameron Greenway playing up in the full forward line.  Early players to feature were midfield duo John Rattigan and Matthew Cox who were enjoying their one on one battles, James Keegan on the wing and Jamie Logan with a good defensive block.
The first point came from John Rattigan with other attempts from Cox and Tommie Mayne-Sheehy which went wide and then a lovely directed kick towards the centre of the posts from Keegan which looked certain to go over the bar but just fell short.   TCG kept going and put Parnells under pressure and Paddy Rattigan was doing a great job in goal.  Unfortunately Tommy Logan who had been marshalling the defence had to go off with a thumb injury which he picked up earlier and was replaced by Sean Buckley.  However Paddy could do nothing about the two points that went over the bar.  At half time Parnells led 1 – 01 to 0 – 02.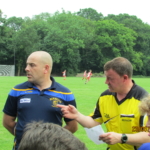 When the second half began, TCG piled the pressure on but couldn't seem to convert to scores, they had a goal attempt tipped wide and two 45's but the game changed when they got their first goal.  Although players were competing for the ball, our lads' energy levels appeared to have dropped.  Side line substitutions brought fresh legs to the field; Darragh Egan and Kieron Hill.  Parnells defensive players-Ben Rossiter, Alex Hipwell, Killian Griffin, DJ and Buckley stemmed the TCG onslaught and our forwards – those already mentioned, Aodhan Burke and Ronan Carolan all played their part with Keegan getting a point back.  Further opportunities with a couple of 45's but TCG dealt with them.  Eventually Mayne-Sheehy added his first point to the score sheet.
TCG seemed to up their game and added to their score line; a point and then a goal after a great double save by Rattigan.  Another substitution was made with Ethan Shaughnessy coming on but again Parnells couldn't seem to make any scoring opportunities and the last score of the game went to TCG with another goal.
Final Score:  Parnells 1 – 03 TCG 3 – 03
Congratulations to TCG on the win and their gritty performance and although we didn't get the result we wanted each of the boys did everything they could and were just unlucky as in essence they only lost by two kicks of the game.  They are a young group who are still learning and developing and have great mentors in Ollie, John and Mick (Taz).  Well done on a good team performance and display of both forward and defensive skills.  Keep the commitment levels up and look forward to the ABC's.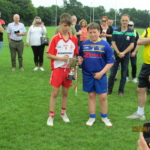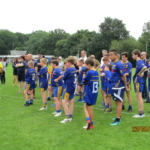 Many thanks to the Parnells supporters on the day.  Post-game and after the presentation where Joel McInern (London Youth Chair) spoke very highly of both sides, the teams, supporters and parents enjoyed the social side of gaelic and welcomed the refreshments provided by Parnells at the club house and organised by Veronica Bailey
Team:  Paddy Rattigan, Tommy Logan, Ben Rossiter, Alex Hipwell, Killian Griffin, DJ, John Rattigan (0 – 01), Matthew Cox, James Keegan (0 – 01), Aodhan Burke, Tommie Mayne-Sheehy (0 – 1), Cameron Greenway (1 – 00), Ronan Carolan.  Kieran Hill, Darragh Egan, Ethan Shaughnessy, Ronan Kerrins and Sean Buckley.