From the beginning of the season, Laurence Wrenn has been coaching and organising one of the youngest age groups within the club.  Some of them have just come up from the U6's and have been developing their gaelic skills.  Laurence recalls the events of the blitz at the end of June.
On Sunday 30th June, our U8's made the trip across London to the home of Round Towers for their Blitz in memory of Baby Donnacha O'Donovan (RIP).  Whilst only a handful of clubs were represented, the standard of football on display was strong and we had three competitive games on a lovely, sunny afternoon.
First up we played Gael Londain Greens in what was a tough game for both sides.  Credit to our younger and newer members who played with no fear and got stuck in to the game from the start, winning crucial ball for us to create chances with.  Next up were our hosts Round Towers, a team who showed some excellent skill and understanding of the game, equally matched by our young guns who showed great composure in attack and determination in defence.  Lastly, we played the second Gael Londain team.  Like our first encounter with the boys and girls from Hazelwood, this was another match where neither team gave an inch and a good sporting contest seen some excellent phases of play and scores from all involved.
As one of our older players, Dermot Cox led the team by example, fighting for every ball and using it wisely when in possession. He was ably assisted by Grace Cooney and Annie O'Grady, who showed that they are gaining a greater understanding of the game with every match they play.  Daniel Hanbury was our youngest player on the day but what he lacked in years, he made up for in determination and stood his ground no matter what the opposition threw at him.  James Haran showed his versatility by making some crucial tackles at one end of the field and working space for a fine point at the other.  Freddie O'Grady is another new member of our team but you would be forgiven for thinking he has been playing for years, given his ability to compete in all areas of the field. Fiachra Slattery and Laurence Wrenn are two players who defy their smaller stature by displaying a willingness to get on the ball and showcase their skills as well as executing some excellent point taking.
Last but not least, Martha O'Brien played with the heart of a lion and is a player who never knows when she is beat.  She also put some points on the board when we needed it most.  Her stand-out displays earned her the accolade of Player of the Tournament from the home team.  Well done Martha!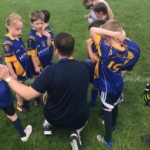 Thanks to everyone at Round Towers for a fantastic day and to all our players and parents for making the journey.