U11s Northwick Park 6th July – Tim Slattery
Parnells v Tara
On a lovely morning at Northwick Park, Parnells U11's took to the field against rivals Tara and played probably their best football of the year so far. With the bare 11 players we played some lovely football with a winning score of 1-05 to 0-2 (tbc).  This was a big turnaround from last week in the heat when we wilted against the same opposition.
What was most impressive today was our teamwork and the effort put in by all the players. Everyone marked their men without exception and we did really well against the Tara kick outs gobbling up possession. As well as that we stuck to the plan for our own kick outs and this also worked really well for us.
It was especially pleasing to see how well our lads played against the breeze and the expected Tara fightback in the second half. Our lads continued to stick to the game plan with team work and effort to the fore. We gave nothing easy to the opposition and there was some brilliant examples of forwards chasing back as their men tried to break up the field.
The hard work was paying off and we put together some lovely passing moves which culminated in some great scores and a winning start to the day.
Parnells v St. Kiernans
Our numbers increased to 12 with the welcome arrival of Aaron M for our final game against St. Kiernans.
The challenge now was to repeat the performance of the previous game. Again we could not be faulted for effort and application and we played some good football. However with our smaller panel and St. Kiernans rolling on and off the subs we lost our shape a bit and our disciplined approach to marking and kick outs in particular was slightly stuttering.  However we made it to the half time whistle with the scoreboard in our favour.
In the second half despite having probably the majority of the possession we were finding it hard to put the ball between the posts and we hit a flurry of wides.  This made for a close game and as we got tired we lost a bit of concentration and let St. Kiernans back into the game. They were gaining more possession and as spaces opened up, they hit a deserved goal. We battled on and held on just about enough to finish the game and the day undefeated.
All in all a very good outing by our lads. Each and every one of them should be very proud of their effort.
If they can re-produce the performance given in the first game today they will enjoy the ABCs next weekend.
Things to work on in training next Wednesday include:-
– Give and go return pass for 45s
– Looking up and finding the pass
– Shooting!
U11s Team:  Ryan, Tiernan, Dylan, Tadhg, Riain, Matthew, Jake, Thomas, Lorcan, Ronan, Ricky and Aaron M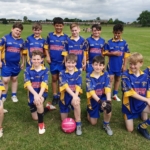 U10 at Gael Londain – Colin McGuinness
U10's entered one team at Gael Londain today. The teams they faces were Round Towers, Gael Londain, St. Clarets, and St Joseph and beat all four very impressively. Comments again from other clubs on how well the team play together. Very good day for all the club, great to see all the ages groups of boys and girls as a club together today down there. Well done to all again.
O14 Girls by Liam Moffatt
Well done today girls. Unfortunately the score never went our way for the first game against TCG. Our second game was much closer against Gael Londain with only a 10 minute rest between games. It was really good to see the improvement and determination that each and every one of ye put in today 👏👏👏👏👏.  We had one injury today but it was worth the effort as it stop a point by Gael Londain. Poor Kitty got it straight in the nose and Maggie had to deal with some blood, thanks Maggie. Well done again girls.