Parnells GFC have had the honour of having some great Presidents (and subsequently Life Presidents) over the years.  Tom Curran, Terry Connolly, Tim and Denis Brosnan, Tom Duffin, Martin Diggins and until recently Tom Farrell (R.I.P).  The passing of Tom Farrell earlier this year was a blow to the club, losing a committed gael who had blue and gold blood running through his veins was devastating and replacing him was going to be a difficult task.  Many past members who have served the club well have returned to Ireland but one person sprang to mind immediately, Willie Moffatt.
The Moffatt brothers, Martin, Joe (R.I.P) and Willie were all players with the club from the 1960's.  Willie recalls his connection to the club.
'I joined Parnells in September 1962. My brothers Martin and Joe (R.I.P) were already playing with the Parnells senior team, it was the year they won their first Senior Championship and their first Tipperary cup.
In 1965 I captained the junior team which won the Championship and I was on the senior team panel which won the league the same year and the Championship the following year in 1966.
In 1968 the juniors did the double league and championship. In 1969 whilst playing in the intermediate final I suffered a double fracture of my right leg'.  (This kept Willie off the field until 1971 but returned to play for another eight years or more).
'I was Treasurer of Parnells for approximately seven or eight years (whilst still playing). My wife Anne (Roche at the time) was Parnells first corresponding secretary in the sixties.  My son Liam has been coaching Parnells underage boys and girls at different age groups for several years. His daughter Síne and son Eoin also play for Parnells'. 
Willie has devoted many years and he is a great example of a dedicated 'club servant'.  Willie and Anne have three children, Rita, Audrey and Liam.  It was Liam that played gaelic and also became a coach with Parnells Youth with both his son, Eoin and daughter, Síne playing with the youth set up from a very early age.  Liam continues to be involved especially with the girls as Síne moves up the age groups and coaches and works tirelessly to promote Ladies football.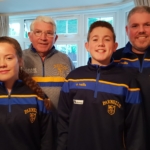 Now Willie can be seen on the side line supporting all the teams (including his grandchildren) and Parnells GFC is very lucky and honoured to have a lovely man as our new President.