On a typical autumnal day, St. Kiernan's hosted their James O'Brien tournament.  Parnells fielded from U6 to U10 and in U12 girls.  The club was delighted by the numbers from our own club across the age groups and had cause for celebration at the end of the afternoon when the U10's won the James O'Brien Shield.  Well done to all the players and management team. A small selection of photos will be in the Youth Gallery section.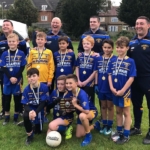 A special mention for the 7 girls that also enjoyed a day of football there and have made great strides in their football development.  A special presentation was made from the London Youth LGFA to three players whose performances stood out and each received a London Ladies jersey.
Most Improved on the day:  Queenie Healy and Frankie Shea.
Managers Player of the Day-Maia O'Sullivan because she has returned back to playing after a spell away and has improved greatly.
Michael Healy, who took over at the reins this year, has looked after this group and has been supported by all the parents, especially Anthony Ruddy.
The U14 Girls (which included many of the U12's), led by Rob Curd, were unlucky in earlier weeks to lose their B final to NLS in a very close game.  Down by 6 points at half time but this didn't deter them and they came out in the second half and produced some 'cracking football' and won the battle in that half by 2 points but unfortunately lost the game 4-06 to 4-10.  This is a very young team but have showed character and spirit on the pitch.  This year the girls have learnt a lot which will stand them in good stead for next season.
A similar story for the U18 Girls who lost in the Championship final.  Having beaten Tara's they just couldn't manage another win against St. Clarets.  Although they will be disappointed, I'm sure Liam Moffatt and the girls will take away the positives of this season, work on them and turn the games lost into wins for next year.
The last game for anyone in the club this year will be the U17's in the Minor Championship Final against Tara which will take place this Saturday, 12th October in McGovern Park, Ruislip at 4.00pm.  There is no doubt that this will be a fantastic game of football with so many talented players from both sides looking to secure a win.  The club would like to encourage all gaelic football supporters to go and see the game and see the talent that London Youth football has developed and will be on show.  Good luck to everyone involved.
Events:  The club's next special event is the Youth Annual Presentation Day which takes place on October 13th in Harrow Rugby Club.  Doors open from 2pm, presentations start at 3.00pm.  This is a great day of celebration of what the club has achieved on and off the field.  Family fee on the door which covers food, music and free raffle.  We look forward to seeing everyone there.
The outdoor training for the season has now finished but even though the season is drawing to a close, Parnells are always happy to welcome new players at our bases, Harrow Rugby Club and Northwick Park, across all age groups and ability.  For U6-17 please contact Colin McGuinness (07779 340398) or Veronica Bailey (07768 635534) and for the Senior/Junior teams, please contact Tony Griffin (07966 160999) or Dennis Diggins (07768 352680).  Details for winter training to be announced.