Keeva Hanbury, along with her parents Tom, Andrea and sisters Sorcha, Roisin and Ailbhe have been part of Parnells for some time,  Keeva plays with our U8 team.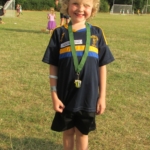 This year her dad, one of our coaches Peter Butler and friends are taking part in the Royal Parks Half Marathon 2019, 13 Oct 2019.
You can support them by visiting https://www.justgiving.com/fundraising/thomas-hanbury1 and donating to this worthy cause.
We wish them all the best of luck.
Team "Keeva" has grown this year with Thomas – Damien –
Edward – Peter – Stephen and Nick all taking up the challenge to run in the Royal Parks half marathon for our chosen charity Spread a Smile.
It is a truly unique charity that provides entertainment to
seriously ill children that unfortunately have to stay in hospital, for sometimes weeks at a time.
I have seen first-hand, how children are transformed from
the boredom of their hospital rooms to be fully engaged and entertained when one of the spread a smile volunteers comes to visit as a magician – a singer or a magical fairy.
The Spread a smile charity also provides families additional
support with fun days out to the theatre and special parties.
This Charity needs all the financial help it can get to
continue its good work and entertain the seriously ill children.
The half marathon will be a challenge for all the team, but
we have been training hard and see this as a challenge we are all determined to succeed.
All donations that you can make are greatly appreciated.
Thank you so much for your generous support, Team KEEVA .
Please follow this link to find out a bit more about spread
a smile charity work. www.spreadasmile.org