With all the games and competitions over for the season, the club moves to the planning phase and also a little bit of time for 'socialising'.  Some of the 'mums' in the Youth Section are organising a pre-Christmas social day out (Saturday 30th November) including brunch and Winter Wonderland in London and returning to Barrett's in Cricklewood.  If anyone wants to join in, please contact Michelle Rattigan via the Club.
The Youth section will be holding a family disco and fireworks display on New Years Eve following last year's very successful celebration.  It will take place at Harrow Rugby Club from 8pm until late.  A ticket only event:  £15.00 per adult and £5.  per child.  Tickets will be limited and issued on a first come first served basis to Parnells members.  Contact Michelle Rattigan via the Club.
The club's dates for the club's AGM's are also to be arranged and again details will be announced soon.
Recently the following players were selected as part of the London County Squad:  Ryan Forde, Connor Spinks and Jack Woulfe which is a fantastic achievement.  Last weekend saw Ryan and Connor play against the Irish AIB Bank team who were visiting.  Connor Spinks got on the score board with 1-01.  We wish them well for this year's London campaign along with Jack.  Players and parents went down to see a very talented AIB team, the hurlers and lady footballers who also travelled.  Photo opportunities were taken by some.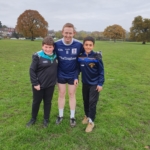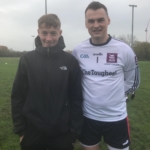 The outdoor training for the season has now finished but even though the season is drawing to a close, Parnells are always happy to welcome new players at our bases, Harrow Rugby Club and Northwick Park, across all age groups and ability.  For U6-17 please contact Colin McGuinness (07779 340398) or Veronica Bailey (07768 635534) and for the Senior/Junior teams, please contact Tony Griffin (07966 160999) or Dennis Diggins (07768 352680).  Youth winter training is to begin on Wednesday 15th January 2020 and the club is returning to Preston Manor High School (HA9 8NA) utilising its fantastic indoor facilities and 4G Astro turf pitch.  All ages and abilities from 5-15 are welcome.  For more details contact Colin or Veronica.