A happy, healthy and prosperous new year to everyone.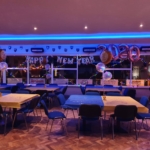 The club held a marvellous family New Year's Eve celebration attended by many of our club families and friends.  Marvellous setting, food and entertainment.  A great way to see in the New Year.  Many thanks to chief organiser, Michelle Rattigan and all those involved in the planning, setting up and clearing up.
What's happening in 2020?  The answer is 'lots'.  The New Year sees the start of winter training for some of the youth section from Wed 15th Jan-18th March 2020 @ Preston Manor High School, Carlton Ave East, Wembley, HA9 8AE. 6.30-7.30pm. Age 5-15, boys & girls, all abilities and newcomers welcome.  Indoor and outdoor facilities.  A fun and inclusive activity and a great way to exercise, learn new skills and make friends. Contact Veronica Bailey 07768635534.
The Youth Section will be holding their AGM on the 19th January at Harrow Rugby Club from 5pm, clubhouse opens from 4.30pm.  All members are invited to attend and it would be great to see as many parents as possible volunteering for roles within the club and on the Committee.
Planning is taking place for the club's Annual Dinner and Dance which will be on the 28th March 2020 at the Hilton Hotel in Wembley.  All sections of the club will be involved.  More information to follow but put the date in the diary.  This year's youth club trip will be to our host club, An Riocht, Kilkeel in County Down 23th May-25th May 2020.  Chief organiser is John Rattigan and more information and details to club players and families is being sent out for the age group concerned.
The outdoor training for the season has now finished but even though the club season is non active, Parnells are always happy to welcome new players at our bases, Harrow Rugby Club and Northwick Park, across all age groups and ability.  For U6-17 please contact Colin McGuinness (07779 340398) or Veronica Bailey (07768 635534) and for the Senior/Junior teams, please contact Tony Griffin (07966 160999) or Dennis Diggins (07768 352680).
First anniversary mass for Tom Farrell will be 25.1.2020, 6pm at St Sebastian & St Pancras, Hay Lane, Kingsbury, NW9 0NG.
For all Parnells Club activity and training information please visit our website www.parnellsgaa.com .  Follow us on Facebook Parnells GAA London and on Twitter @parnells_london.