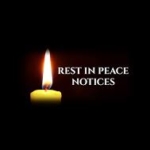 It is with deep regret and profound sadness that the club notifies everyone that in the past few days we have been told of the death of two relatives to club members.
Our sympathies go out to Mark, Caroline and Conal White during this difficult time on the passing of Mark's father, Eoin White who resided here but hailed from South Kerry.  Eoin was a great club supporter and spectator of his grandson, Conal's team which Mark helped manage until recently.  May he rest in peace.
Also our sympathies are extended to Eileen Driscoll and her family on the recent passing of her mother, Babs Driscoll, who reached the magnificent age of 97.  Eileen's daughter, Emily, played with our girl's youth team. May she rest in peace.
We are aware that in the wider gaelic community that other clubs also have had sad news and our prayers and thoughts go out to everyone during these challenging uncertain times.