Parnells supporting our NHS heroes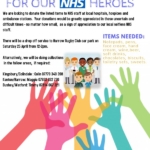 As a sign of appreciation, we as a club have decided to give back to the NHS staff who are working in these very tough times.  The club has several parents working in local hospitals and community settings and would like to make some donations of requested items.
Your support and contributions with this would be greatly appreciated.  Please read the flyer for more information regarding drop off points and items needed.
We would also like to reach out to those who may be able to source donations of PPE and materials that are vital for front line staff through any of our members's company contacts.
Contact details are on the flyer or email or call any of the committee members details on this site.  Many thanks for your support with this.  We continue to help everyone by 'staying at home' and following guidelines.  Our hearts and prayers go out to all who have family or friends effected by this and suffered any untimely losses to their near and dear ones.