20.9.2020 Parnells Men reach Shiels Cup Final
After a closely fought match, the men reached the Shiels Cup Final by beating St Brendans by a point; final score 1-05 to 0-7.  Leading for the majority of the game the victory almost slipped from their grasp with St Brendans levelling the score in the second half.  The defence collectively put in a fine performance keeping St Brendans scoring opportunities to a minimum.  A 'sin bin' for a Parnells player put further pressure on the team but they did not lose their resolve and kept battling away.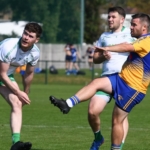 A draw game going into the last 10 minutes and with Parnells missing two goal scoring opportunities, Aiden Callanan scored the match winning point with minutes left to go.  It is clear that that the lack of contact training and match practice does effect performance.  Many of the team are young and only at Junior grading so a win at this level, Intermediate, is one to be proud of.  Hopefully when the final will see the team stronger and ready to meet the next challenge before the Championship begins after that.
Many thanks to the officials, the board and volunteers at Ruislip.  It was great to be able to play there in these difficult circumstances.