Merry Christmas and Happy New Year 2021 Club Message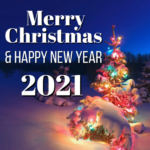 We have all faced really difficult times this past year.  We would never have imagined how this pandemic would affect us personally and our friends and family.  Gaelic took a back seat for some time but the Club remained active in those early months and the Youth led us in giving back to the community and the NHS with parcels containing items donated by club members.
Work continued behind the scenes to ensure that when we could return to play that it was in a safe environment and that is when the GAA introduced the role of 'Covid Supervisors'.  Many an hour was spent collating paperwork, monitoring health updates and giving out hand gel!!  Thank you to all officers, parents and players for their co-operation.
Meetings as we would normally be held could not take place, so we moved to the virtual platform and gave Zoom a go, it's had some very entertaining moments!
The club has 'survived' the season and in the end the turnout of players was great.  The youth enjoyed training and what friendly games they could have took place in a safe and happy environment.  For the men, the games were played with heart and passion and we made it to the Shiels final and semi-final of the Intermediate Championship which is yet to take place as the second lockdown in November meant that the games were cancelled.
We have much to look forward to next season and hope that the players who have had long term injuries will be ready to take to the pitch again and we wish those who have had or are facing operations a good recovery:  Connor Spinks, Jack Woulfe and Ryan Forde.
Other members may also have had health issues and they are always in our thoughts as are all the families who have lost loved ones this past year, most recently, Tim O'Slatara on the passing of his mother, Kathleen R.I.P.
Christmas is almost here and although our 'normal' celebrations may not be able to take place, I hope everyone can share the Christmas spirit in some way or another.  Parnells would like to wish everyone a Merry Christmas and a safe and healthy New Year.