Happy Birthday Joe Regan 13th Feb 2021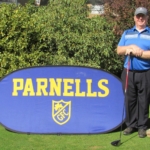 Parnells GFC would like to wish Joe Regan a marvellous 70th Birthday.  Joe has been associated with the club for many years, club chairperson and on the committee during that time.  Always on hand to help the club on all occasions (especially if golf is involved!).  An invaluable voice of reason and experience and a club stalwart.
We hope that he has a marvellous day with his wife Joan and can share it with as many of his family as he can, in person or via a screen!  I'm sure there will be stories reflecting on old memories and a day of laughter and celebration and making new ones.
Many happy returns Joe with best wishes from all of Parnells GFC