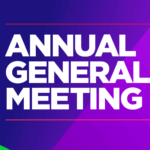 Parnells had a very successful and well attended 'online' AGM via Microsoft Teams.  Club Secretary, Irene Sheridan, spent a few weeks organising access for the members, ensuring documents were prepared and all that attendees could access ahead and during the meeting.  In the forefront of everyone's minds and evident in the Officers reports and Chair Address, were those members and families who had suffered a bereavement and those who had been touched by Covid and any illness in the last year.  A minutes silence was held at the start as a mark of respect.
Although the circumstances were very different to previous AGM's, all the Agenda matters were dealt with. The Secretary's report alluded to the challenges that the London County Board and clubs faced in trying to return to training and competitions in a safe environment and make sure as a club we were Covid compliant with the GAA and LCB rules and regulations.  From September the LCB worked hard on the fixtures and as a club we were able to participate and reach a final of the Murphy/Shiels Cup and semi-final of the Intermediate Championship.  Another lockdown in November has meant that these games are to be completed in 2021.
A much quieter year for the Youth section but they trained when they could and had some friendly games and were marvellous back in April 2020 in launching and organising a community appeal for 'appreciation packages' for those who worked in the NHS and care homes.
The following officers were elected.
Chair-Jimmy Wilson, Secretary-Irene Sheridan, Treasurer-Liam Moffatt, PRO-Jamie Murphy, Registrar-Kenny Ryan, Assistant Secretary-Dennis Diggins, Assistant Treasurer-Calum Diggins, Childrens Officer-Maggie O'Rourke, Health and Well Being Officer-Sinead Griffin, Board Delegate-Irene Sheridan.
Other Committee Members:  Youth Chair-Colin McGuinness, Youth Secretary-Veronica Bailey, Player Representatives: Brian Foody, Connor Spinks and Jack Woulfe.
The club recognised the contribution of Margaret Farrell who stepped down from Treasurer but was appointed as a new Vice President along with Patsy McKenna and joined other club Vice Presidents.
The club is looking forward to 2021 and returning to the field of play as soon as guidelines permit us.  There is plenty of administrative work to be done in the meantime in preparation for this and officers will be busy behind the scenes.  We wish the new London County Board Chair, Donal Corbett, the best of success in his new role this season, as we do our own Committee and Sub Committees.