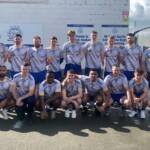 Parnells Men were finally able to travel to the Emerald Isle and made a return to Kilcock, Co Kildare, following on from trips in previous years.  The group consisted of players, mentors, committee and supporters and left Heathrow on Saturday early morning.  A pit stop was made at North Kildare Rugby Club for refreshments and then reached Kilcock GAA a little while later.
A friendly game was arranged between the sides (Kilcock fielded a combined level team as they had a game later) which was a close contest at half time but Parnells pulled away to win 3-19 to 0-13.  Parnells availed of the hospitality of the club and then made their way to the Glen Royal Hotel in Maynooth to enjoy a group meal, joined by friends, former players and family.  A lot of team bonding took place!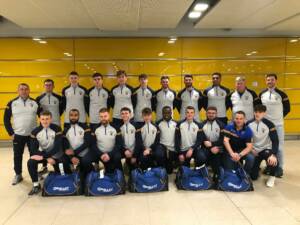 The hotel had great facilities which were taken advantage of and then it was all aboard the team bus to make their way to Croke Park to watch the National League Div. 1 and 2 finals.  Time passed by extremely quickly and before they knew it, it was back on the 'bus' to head to Dublin airport for the final leg home.
A successful trip and many people to thank. 
Gerry Gardiner and GGH who's generosity was outstanding, as our main sponsor of this year's new gear and stay and hospitality in Kildare.

Dennis Diggins on the planning side, Chairman and logistic manager extraordinaire!  

Kilcock GAA for welcoming the team on and off the field.

Glenroyal Hotel in Maynooth whose staff and facilities were second to none.

Emma Tormey, GAA Ticketing Manager for facilitating the purchase of tickets for the National League Finals.

Plus all the players and mentors and those who travelled with the group and took the time to make the weekend such a great success.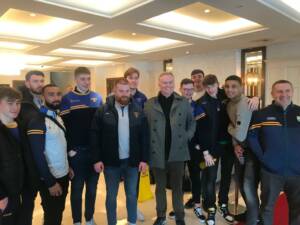 The club hopes to return again in 2023 but will now concentrate on the season ahead.  Parnells Abu.