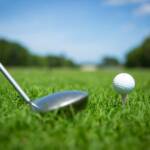 Parnells Men held a successful 20th Annual Golf Classic day on Friday, 6th May at Mill Hill Golf Club (100 Barnet Way, London NW7 3AL).  With marvellous weather and lots of sunshine, golfers arrived early to avail of the complimentary breakfast and were keen to make their way out on to the fairways.
Enjoying a lovely course and splendid greens, they arrived back in to the clubhouse in good spirits and thirsty!  Plenty of stories of what happened out on the course kept the conversation going until we sat down for the carvery meal and waited for the competition winners to be announced.
Dennis Diggins (Chair/co organiser) gave a welcome address and thanked everyone for their support and sponsorship,  in particular, GGH and Kerry London who have and continue to be our main sponsors for this event.  Mill Hill GC were as accommodating as always in terms of facilities and a splendid meal and nothing was too much trouble for their staff.
The raffle and auction (Tommy Flaherty-compere extraordinaire) was good fun and all appreciated the prizes donated on the day.
Parnells GFC would like to thanks all the golfers and companies who made the event one of the highlights in the calendar.  The club would also like to thank Joan Regan, who has been part of the golf day for years, for her administrative assistance and welcoming smile.
Winners details to follow
First:
Second:
Third
Longest Drive-Hole
Longest Drive-Hole
Nearest the Pin-Hole
Nearest the Pin-Hole