Parnells London Go Games Blitz U10's Report 20.5.2018
Three Parnells under 10s teams participated in our own blitz in the superbly prepared surroundings at a sunny Wood Lane on Sunday 20th May.  Team Amber, Team White and Team Blue played 4 games each and once again brilliantly represented the club. Coaches John, Dennis, Colin and Tim were full of praise for their charges.
First up for team Amber was TCG White, followed by games against Clarets, St. Kiernans White and finally Tara Green.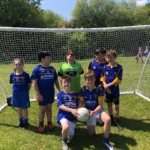 With the minimum number of players we played extremely well in all our games.
Tiernan has surely announced himself now as a serious under 10 player. He showed against Clarets that he can compete with the best. His pick-up of the football off the ground whilst running on to the ball was a revelation and his fisted score was as good as a kicked one flying over the bar with plenty to spare – more of the same please Tiernan!
Frankie's positional sense and her game intelligence along with a brilliant side step was a joy to behold. As her confidence grew so did her kicking game and it's only a matter of time before she starts exercising the umpires arm on a regular basis.
Malachy has his best outing yet. He is growing in confidence and he got some useful kick and hand passes in and also made a super save.
Lorcan and Tadhg covered acres of ground and at speed too! In attack they scored regularly, in defence and midfield they defended robustly and made some great clearances and long accurate passes to teammates. They were the heart and lungs of the team!
Last but not least Ryan and Ronan showed how deadly they can be especially when facing goal. They both moved onto space very well and got on the end of a lot of attacking ball. Ronan's speed is a great asset and he uses it well to unlock defences and create space and scoring chances. Once Ryan gets the ball in possession he rarely loses it and his point taking from all angles was impressive.
By the end of the day Team Amber could be very pleased with their performance. It's fair to say that they matched and probably got the better of all of their opponents except maybe in the last game when Taras may have shaded it in the end. By that stage we were looking a bit jaded which is understandable considering we did not have the luxury of subs and one of our players had been sick the night before.
A super effort from a great bunch of kids – well done all and keep it up. Practice, practice and more practice!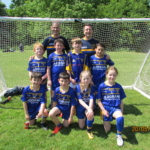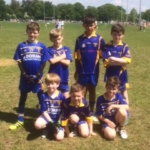 Footnote 
Parents
The games came thick and fast and it's very pleasing that all games were completed in line with the scheduled fixtures, with one group even finishing ahead of schedule!
Thanks to all parents, grandparents, aunts, uncles and carers for getting your kids to the venue in good time for the games. This is vital for us in order to run a well organised and enjoyable event. Thanks also for helping out at the blitz and we look forward to your continued support during the coming season. We would not have a club without you.
Referees
A special thanks to our dedicated referees on the day,  Kevin Barrett and from our under 17s & under 15s , Aidan Doran, Conor Doran, Eamonn Kane and Ciaran Griffin. They applied themselves to the task of ensuring all players respected the rules and enjoyed their playing experience. By doing so they freed up coaches to concentrate on their own teams. They were integral to the success of the day.
Next Up
The next blitz is being hosted by the Tara club on the 16th June so please mark in your diaries if you have not done so already. More details to follow.
Regards
Tim