Congratulations to our Junior team who beat Eire Og in another closely fought league fixture midweek with a one point win 1 – 11 to 1 – 10.  They trailed at half time by a point but turned the game around and survived a late run of scores.  Unfortunately the Senior team lost out to Dulwich Harps making their league campaign a difficult one.  Since that game the Junior team have also beaten St Kiernan's 4 – 15 to 1 – 07.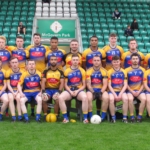 The U11's played their final set of round robin games last Saturday with two wins.  Tim Slattery was delighted with the team performance and improvements made after their last training session.
The other youth action was at Gael Londain which saw the girls' team and the U10's have a great day out; a great venue saw some fantastic football.  At our home venue some friendly games were played just to keep the other teams ticking over.  The club is really looking forward to the ABC's in Greenford this weekend, a highlight in the Gaelic calendar and we wish everyone a fun and successful tournament.  Our U15 Boys were unfortunate to lose to TCG in the Championship but they played extremely well.
Events to look forward to after the summer are the Youth Golf Day taking place on Friday 13th September at Stanmore Golf Club.  Details will in circulation and on the website soon.  Also on Saturday 14th September we will be hosting our U12 Commemorative Tournament for the Ryan, Togher and Somers trophies.  This year we will be welcoming visiting teams including Sean McDermotts from Birmingham and Ballyporeen from Tipperary.  The club will celebrate with football and family fun and hope that it will be a great success.
Whilst the season is in full swing, Parnells welcomes new players across all age groups and ability.  Our bases at Harrow Rugby Club and Northwick Park accommodate all age groups and levels.  For U6-17 please contact Colin McGuinness (07779 340398) or Veronica Bailey (07768 635534) and for the Senior/Junior teams, please contact Tony Griffin (07966 160999) or Dennis Diggins (07768 352680).