The 'Junior' Journey this season
The 'minor', or as we now call it 'youth', section of Parnells GFC was formed in 1998. Over 20 years later, a historic step has been taken in 2019 the formation of our Junior grade side. Given the success at youth level and numerous 'minor' championship titles, the club did not want to see all of those players who have shown such talent and appetite for the game not being able to participate. The transition from under 18's to senior football can be a challenging one as the players involved are often experienced and of a higher technical level. The reserves offered some, but not enough game time.
Our past youth managers: John O'Sullivan, Gerry Somers (RIP), Geraldine Munnelly and more recently Dennis Diggins, Tony Griffin, Danny Twomey and Mark White all believed that these lads could play at the adult level. Some of our previous youth players have transitioned to the Senior game extremely well, but the club took a decision to try and nurture the talent in the youth section and – when the time was right and the numbers were there – enter in to the Junior Championship with a 'home grown' team. The move came a little earlier than anticipated; prompted by the GAA's decision to lower the minor age from U18 to U17.
Tony Griffin contributed to an article in the Irish World and the following paragraph is a direct quote from it.
"We're not thinking about silverware – this is a platform for a 17-year-old to go up to Senior.  We've ten or eleven kids that are 18 this year and they want to play – my own son is one of them.  Changing the rule at minor (from U18 to U17) has just made us push on and do it a year earlier.  Too many kids drop off at 17 or 18 – we want to give them a platform.  Reserve hasn't been a success, so we've gone down the line of an English-born team, where they'll get a steady flow of 15 or 16 games a year.  Hopefully, in turn, that will turn some of these lads into Senior footballers.  That's what we want.  We think the jump from 17 to senior is too much, whereas three or four years at Junior will improve them and maybe a lot more will step up into the Senior ranks."
Many of the players involved have played for Parnells from the age of five upwards and a good majority of them have represented London and have a wide collection of medals and trophies between them. Their parents have brought them to training for years, transported them to games and now many are driving themselves. They have a great camaraderie and the bonds of friendship run very deep.  Some of their parents have played gaelic in London for Parnells and other clubs before they were born:  Dennis Diggins, Bernard Callanan, Adrian Woulfe, Irene O'Connor (nee Sheridan) and Sean O'Connor, Maria and Fiona Murphy (nee Diggins), Tony Griffin and Danny Twomey to name a few!
A motion was proposed and seconded at a Parnells Committee meeting and ratified.  This was then put to the potential panel, the response from current and ex-players was brilliant and allowed the management team to ensure a focused vision was in place. The driving force behind the initiative, which included Tony Griffin, Danny Twomey and Mark White, asked Damian Holland to come on board as physical trainer to devise an organised pre-season training plan to ensure the team were prepared for the season ahead.
The Junior Challenge
When training commenced in February, using a school's facilities before transition to outdoor training and games, the commitment from everyone concerned was clear to see. With the numbers attending training growing by the week, the bond between the squad grew and their determination to succeed was even more impressive. What is apparent is that the mentors and the players all know each other extremely well and this knowledge has worked to their advantage. Part way through the training, Damian returned to help the Ladies team and other mentors assumed the lead.  By the first game a management team was formed: Tony Griffin, John O'Sullivan, Barney Breen and Ger Foley.
The team has seen some successful League wins as the season has progressed. One of the success stories so far has been the team's run to their first adult final in the McAleer & Rushe Mullarkey Cup Final in McGovern Park, Ruislip, which took place on 20th June 2019. Narrowly losing by one point to Dulwich Harps 2 – 09 to 2 – 10, it was a great game and the panel will learn from it and move forward.  They looked a very sharp outfit both in their appearance and in play. The club would like to thank Seamus Finnerty and his company JSM Specialist Services Ltd for sponsoring the new kit and look forward to a successful partnership for the future.  The Junior journey continues.
The Junior 'First Final'
This took place on the 20th June.  The stand at McGovern Park was filled with at least over 100 Parnells supporters all wearing their club colours.  The opposition being Dulwich Harps, an older, more experienced team who have recently won one competition and also in the Division above us.  What a thrilling game it turned out to be.  As Damian Dolan in the Irish World wrote 'it was so nearly a dream first final for the fledgling team, in its first year of existence'.
The team got off to a flying start with the first point coming from Connor Spinks who then, moments later delivered a ball that Jamie Murphy punched in to the back of the net. Two more points followed from Spinks, who was a lively presence in the forward line throughout, and Aidan Callanan.  Parnells were leading by six points with only ten minutes on the clock.  Dulwich Harps were clearly taken by surprise but recovered with a goal against the run of play. With Parnells often failing to win their own kick outs, attacking chances became more sporadic for the Junior side. However, Dulwich's speedy link play began to cause Parnells some problems defensively and they definitely had their scoring boots on. Parnells made some positional changes which gave them some stability in the latter stages of the first half as Dulwich looked to press home their advantage. When the half time whistle came, Dulwich Harps led 1 – 04 to 1 – 03.
It was all to play for in the second half, Parnells again started well. Despite an early Dulwich score from a free, Parnells began to really turn the screw with Callanan scoring two points in quick succession adding to his tally for the day. The Parnells players raised their game even more and there were heart stopping moments around the Dulwich goal mouth but could not seem to pull away from the opposition on the scoreboard and the opposition hung in there. The management team made some substitutions looking to provide some fresh legs to keep the team's intensity high. With Callanan adding two more scores from frees and midfielder Josh Obahor pointing from play, Parnells were having a 'purple patch' and led by three points with just eight minutes to go.
Unfortunately losing defensive linchpins Jason Maguire and Jack Woulfe (to a black card and injury respectively) had a big impact on the defence. However, the Parnells' defence continued to work hard and benefitted from an array of wides by Dulwich Harps (seven in the second half). A level game with not long to go and the possibility of extra time, Parnells support seemed louder than ever but, whether Dulwich Harps experience told or tiredness from a young Parnells side, Dulwich managed to edge ahead by one point. One last move from Dulwich Harps seemed to have clinched the game, yet a ray of hope came when Parnells won a free and Callanan – perfect from frees thus far – sized up the attempt. From well beyond the 45 metre line, the distance was against him and he sent it just wide.  Game over, Dulwich had won
2 – 10 to 2 – 09.
Parnells can be justifiably proud of their performance and marked not the 'end' but only the 'beginning'.  A great achievement when you reflect on the fact that the group had only played eight games together, at the time, and the average age of the starting team was 20.8 years. It would be wrong to pick out individuals on the day, as win or lose this was a team performance both on the field and off it.   A wealth of talent that seemed to just need a tad more experience and fine tuning.
Team
Frazer Beckles, Neil McNamara, Jack Woulfe, Jack Flanagan, Eamon Kane, Jason Maguire, Daniel Bracken, Liam Bakary,  Josh Obahor (0-1), Kieran O'Connor, Luke Horgan, Connor Spinks (0-3), Alan Callanan, Jamie Murphy (1-0), Aidan Callanan (0-5, 4f).
Substitutions:  Sean O'Sullivan for Eamon Kane, Gerry Gallen for Luke Horgan, Calum Diggins for Kieran O'Connor, James Donnellan for Jack Woulfe, Luke Horgan for Jason Maguire (Black Card).
Unused:  Ruairi O'Connor (Goalie), Conor Doran, Jack Diggins, Chris Somers, Ciaran Griffin, Stephen Lally, Lewis Dickinson.
The League Campaign
The club has been enthralled with our Junior team's brilliant and valiant League campaign. Many games have been played using the entirety of the squad and all have performed brilliantly with victories against all sides, apart from early in the season against St Clarets, where we performed admirably with many of the squad unavailable. Their finishing position of second meant that they had to play a semi-final play-off against Eire Og on the 23rd July 2019.  Unfortunately the tables were turned when an earlier victory by one point a few weeks earlier turned in to the narrowest of defeats by one point in extra time in the semi-final. The teams were very evenly matched throughout – despite Parnells missing two key players – and Eire Og led by three points at half time. Parnells played their way back in to the game and led by one point into the final minute only to have the game snatched away as Eire Og levelled the encounter with full time approaching. The score being 3 – 10 Parnells to 2 – 13 Eire Og.
The prospect of extra time seemed daunting for both teams given the sweltering conditions but both sides stepped up to the challenge. Going into the final ten minutes, nothing could split the two sides, despite numerous chances, and the game was in the balance at 3 – 12 to 2 – 15 apiece.  Parnells had chances around the goal mouth but it was Eire Og who struck the final blow with a point as the clocked ticked over the extra-time limit.  When the final whistle was blown, Parnells' players, the management and supporters were all exhausted physically and mentally.  There is no doubt that they gave more than 100% on the pitch and even with water breaks the game had drained everyone involved.
Team
Frazer Beckles, Jack Flanagan, Neil McNamara, Alan Callanan, Gerry Gallen, Daniel Bracken, James Donnellan, Liam Bakery, Josh Obahor (0-1), David Callanan, Aiden Callanan (0 -7 6f), Jason Maguire, Kieran O'Connor-Captain (1-1), Luke Horgan (2-0, 1pen), Jamie Murphy.
Substitutions: Jack Woulfe for Jack Flanagan (who returned to the game for extra time to replace Kieran O'Connor- 2 Yellow cards), Lewis Dickinson for David Callanan, Sean O'Sullivan for Lewis Dickinson, Harry Logan for Jamie Murphy (who returned to the game later for Ciaran Griffin in extra time), Ciaran Griffin for Gerry Gallen (who returned to the game for Jack Woulfe in extra time).
Unused: Ruairi O'Connor, Kieran McCarthy, Michael Walsh, Conor Doran, and Conall White.
Unavailable: Connor Spinks, Eamon Kane, Niall Murphy, Jack Ryan, James Smith, Chris Somers, Luke McHugh, Stephen Lally, George Carroll, Calum Diggins and Jack Diggins.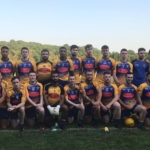 Now the focus changes to the Championship where we face St. Anthony's in early August, followed by Taras', Naomh Padraig and St Clarets'. The team is still developing as a young side and their Mullarkey Cup and League campaign will stand them in good stead and with continued training the side will aim to scale the Junior Championship mountain on their first attempt in this competition.