19th March 2017-U12 Girls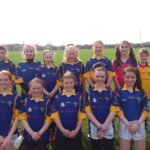 The U12 Girls start the season with a great performance at Greenford.
Report by Fiona Corrigan:  19.3.2017
'Holloway Gaels invited Parnells u12s to a showcase of underage football at their Ann Dunning Tournament at TCG on Saturday 11 March.  As with every invite – we jumped at the chance; giving the girls their first outing of 2017.
Parnells were well represented with a squad of 15 girls.   3 underage teams were present, Tara's, North London Shamrocks and ourselves.  We were up first against Tara's which proved to be a tough match.  We were rusty and took some time to get going and work as a team. Once we got going we were off.  The match against NLS, showed our true colours and serious commitment rose its head.  The girls were on fire and showed their energy and desire to get that ball over and under the bar.
In conclusion, it was a great display of football shown by all teams involved under a clear blue sky. This occasion has made the girls even more excited about the forthcoming season and we hope to have many more opportunities to play. As usual the girls were a credit to themselves, their parents and to Parnells.   Thanks Holloway Gaels for the invite'.
After 2 successful years introducing young girls to the game, Parnells have again, been selected to run another GAELIC 4 GIRLS programme.  Full details of this to be announced soon.
Parnells Girls U12's contact: Fiona Corrigan 07940 568702