A great weekend for Parnells GFC which started on Saturday afternoon with two momentous wins in McGovern Park, Ruislip.  The ladies beat Round Towers (London) 3-07 to 1-07 to become All Britain champions for the first time since 2016 in a very close contest.  We wish them the best of luck in the next stage of the competition.
This was followed by the U17's who beat Tara in a thrilling Minor final becoming London County champions which saw every player from both teams on the field play with skill and passion in very difficult conditions.  Tara led at the end of the first half 0-09 to 0-05 after good possession and accurate point scoring.  The second half saw Parnells dig deep taking vital points, scoring two goals and a saving a penalty in a game that could have gone either way in the final minutes.  Final score 2-10 to 1-11.  Congratulations to everyone involved, to the match officials, the London County Board and Youth Committee.
A more detailed report to follow.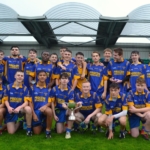 On Sunday, the club held its youth presentation at Harrow Rugby Club where teams from U6 to U17 boys and girls gathered to collect their awards.  Colin McGuinness (Youth Chairperson) was 'master of ceremonies' and called upon the managers to present their teams who in turn spoke about their own age groups and reflected on the seasons' events, thanking the players and parents who consistently turned up to training, blitzes and all competitions.  Our own adult ladies and men were there to present the medals and trophies to the youngsters which was great to see.
The 'back room team' worked behind the scenes sorting out the photo show, raffle, music, fabulous food and capturing the joyful faces on camera. The club would like to thank everyone who attended and hope they enjoyed a great day and year.  The 2020 season is not far away!
A more detailed report to follow.
The outdoor training for the season has now finished but even though the season is drawing to a close, Parnells are always happy to welcome new players at our bases, Harrow Rugby Club and Northwick Park, across all age groups and ability.  For U6-17 please contact Colin McGuinness (07779 340398) or Veronica Bailey (07768 635534) and for the Senior/Junior teams, please contact Tony Griffin (07966 160999) or Dennis Diggins (07768 352680).  Details for winter training to be announced.