To the delight of all Parnells supporters, Parnells Men won a marvellous victory on Sunday the 4th September.  A fabulous score line 3-10 to 0-2 beating Garryowen.  Winning the London Intermediate County Championship means a return to Senior Championship football for 2023.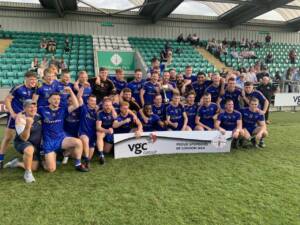 In the near future, more details and photos on the game will be posted.  At this moment in time the Club has celebrated the victory but know that the season's work is not over, games are still to be played, including a League Div. 3 Final v Wandsworth Gaels   This is an important game to ensure a return to Div. 2 football and also a Reserve Championship round robin game.
It's great still to be in the frame in these competitions and show that the hard work of all the squad players involved is paying off.  Therefore a celebration of sorts 'for now' but more more a focus on the games ahead.  During the week, the Cup was taken to show our very large youth section and sharing in the joys of our developing home grown talents.
Well done to all involved, a brilliant day for Parnells.