As the end of 2022 draws to a close, the club must celebrate the success it had with the mens teams this season.  September and October were busy months on and off the field for all involved in the club and to put in to words all the emotions everyone felt during and after the weeks of training, the finals that we played in and the celebrations afterwards, is extremely difficult.
Let's start by summarising our competition success with both teams
Reserve League finalists
Keltic Traffic Management Div. 3 League Winners
VCG International Intermediate Championship Winners
Shiels Cup Winners
Provincial Championship Play Off finalists
All of them each important in their own right but our main success came on the 4th September when we beat Garryowen convincingly in the Intermediate Championship 3-10 to 0-02.  This victory saw a long awaited win and return to Senior Championship Football for 2023.  Captain Luke Horgan received the cup to cheers of delight from everyone and none more so than from his fellow players and management team, Tony Griffin, Barney Breen, Jim Rice and John O'Sullivan.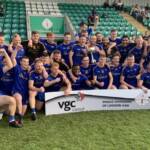 This was followed by another great game and League win over Wandsworth Gaels to get promtion back to Div. 2.  The Cup was received by Captain for the day, Jason Maguire.
The year started with setting out our goals and ambitions very early on in January, training began in February, a players trip to Kildare at the beginning of April cemented those aims and the rest is history.  Every single player who took to the field contributed to the success the club had but tribute needs also to be paid to all the volunteers who help run the club.  The success of any club is achieved only with the help and time given by those on the side line, behind the scenes and in the stands.  Parnells are fortunate to have such fantastic support from ex committee members, players, parents, friends and family.  "Towards the end of the season, when we secured our emphatic Intermediate Championship win, it was an emotional occasion and a personal delight to be able to celebrate with all of those who have been there in years gone by and those that will be our future.  To me, this is what a club is all about.  I am always proud to be 'Parnells' but none more so than this year." (Quote from Club Secretary, Irene Sheridan).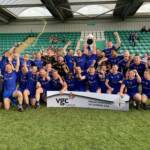 Parnells are looking forward to 2023 and would like to wish players, friends and families a wonderful Christmas and Happy New Year.  We thank the London County Board, the referees and officials and competition sponsors and can't wait for the 2023 season to commence.