Parnells GFC had a marvellous celebratory night at The Clayton Hotel in Chiswick following their successful 2022 season and an array of silverware that was won was on display for all to see.  All sections of the club came together with over 200 people on the night attending.  Everyone gathered for pre dinner drinks and moved towards the main dining area and taking advantage of photo opportunities on the red carpet in front of the large Parnells illuminated letter display.
The main function room saw decorative touches with a balloon display and an artistic table plan and the evening began promptly with guests welcomed by the Chairperson, Dennis Diggins.  Also, the room was treated to a surprise good luck message from Luis Figo (world renowned footballer:  Ballon d'Or winner 200 and 2001 FIFA World Player of the Year), organised by John Hartnett and Vivienne O'Keefe from Anu Ventures Ltd (a new supporter of the club), The hotel served a wonderful menu and each course was interspersed with reflections on the previous season, awards and photos followed from by Tommie Donaghue, Colin McGuinness and Tony Griffin.  Towards the end of this part of the function, the raffle took place with numerous fabulous prizes with part of the proceeds going towards The Booby Moore Fund and then a burst of entertainment from the Murchu Duiginn School of Irish Dancing went down a storm.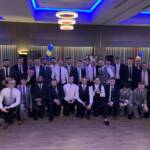 With the formalities over, the night moved on with music from The Bible Code Sundays and plenty of dancing took place, some more energetic than others!  As the revelries drew to a close, it would be fair to say, that the night was brilliant success and perhaps not over for some as plans were taking place to move on to the next venue.
Awards
Ladies Player of the Year:  Renee Murphy
Youth Club Person of the Year:  Jointly shared-Colin McGuinness and Laurence Wrenn
Youth Special Recognition Awards:  Ollie Sheehy and Martin Reilly
Mens Intermediate Manager's Player of the Year:  Laurence Bastible
Mens Intermediate Player's Player of the Year:  Connor Spinks
Mens Reserve Manager's Player of the Year:  Jack Flanagan
Mens Reserve Player's Player of the Year:  Kieran Rice
Mens Special Recognition Awards:  Barney Breen and Jimmy Wilson
There are numerous club people to thank who worked tirelessly behind the scenes for months and Sinead Griffin deserves a special mention who led from the front and made sure everything went to plan.  The club would like to thank all the Sponsors for the year and for those that contributed to the raffle and also to Brendan Vaughan for his photography on the night (his photos to follow).
Plans are already afoot for 2024!